International
Goldgeier steps down as SIS dean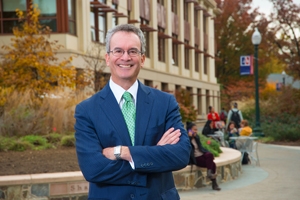 On June 21, after six years as Dean of the School of International Service (SIS), James Goldgeier announced that he will step down from the role on August 8 and transition into the SIS faculty, where he holds the appointment of Professor of International Relations.
Provost Scott Bass recently released a memo to the university community regarding the upcoming transition in which he highlighted many of Dean Goldgeier's accomplishments and achievements as Dean of SIS.
"Dean Goldgeier's accomplishments, dedication to excellence, and contributions to SIS, AU, and the field of international relations have been substantial and multifaceted. As dean, he worked tirelessly to further improve the national standing and visibility of SIS," wrote Provost Bass. "Please join me in thanking Jim for his years of service as dean."
On August 9, SIS Professor Christine BN Chin will assume the position as Interim Dean. Professor Chin steps into the role with years of teaching and leadership experience at SIS, as detailed in Provost Bass' message to the community.
"It has been a privilege to work with everyone at SIS over the past six years, as we have continued to build on the excellence of the people and programs at SIS. I look forward to working with Interim Dean-Designate Chin and with all of you as a member of the SIS faculty," said Dean Goldgeier.