International
Susan Eisenhower kicks off SIS 60th anniversary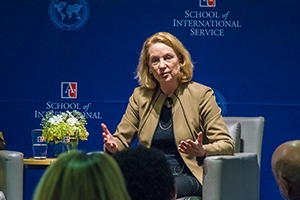 On September 7, the School of International Service (SIS) commenced its 60th anniversary celebration with a special discussion with Susan Eisenhower, an expert in international security, nuclear capabilities, US-Russian relations, and space policy. In addition to her international experience and professional accomplishments, Eisenhower also is the granddaughter of President Dwight D. Eisenhower, who inspired and assisted the founding of SIS.
Interim Dean Christine BN Chin delivered opening remarks that touched upon the special relationship between the Eisenhower family and the School of International Service: "Approximately 60 years ago, President Dwight Eisenhower gathered 13 university presidents, including [American University's] Hurst Anderson, and encouraged them to incorporate human-focused international affairs into higher education. With Eisenhower's call in mind, AU broke ground on establishing the School of International Service in 1957-a school dedicated to peace and service to the global community."
The discussion was moderated by Professor Sharon Weiner, an expert on national security, nuclear weapons, and nonproliferation. Before taking questions from students, alumni, and faculty, Weiner facilitated an engaging conversation with Eisenhower on a range of topics: Eisenhower's experience in national security, international space policies and possibilities, the Cold War and US-Russian relations, the current political climate, and conflict in North Korea, among others. However, the history and threat of nuclear capabilities was at the forefront of the conversation.
"I think nuclear strategy is important because it is by far and away the world's most destructive weapon. Just because the Cold War, as defined by the ideological struggles between United States and the Soviet Union, is over, that doesn't mean that there aren't some nuclear risks. Many people don't realize it, but the United States and Soviet Union are still on high alert-we never got off high alert status after the Cold War," said Eisenhower.
She also shared stories and insight about her grandfather, as well as a couple lessons that she learned from him that she hopes will carry on through the SIS community: "One is leveraging the positive. I think that's a very important thing, especially in the environment in which we find ourselves today. It's very easy to get discouraged, to think that we can't make a difference in any quarter in which we find ourselves. This is all defined by our own self limitation."
Another skill Eisenhower picked up from her grandfather is at the core of SIS's curriculum: communication. "[My grandfather] and all the people who worked with him were always asking me: 'How does it look to the other guy?' I learned how to do that pretty well and I think it always put me in good stead in the international community. You have to know how to talk to people in words and in a tone that makes them receptive to your ideas, and then you have to be a good listener," she advised.
Eisenhower, Weiner, and guests also discussed the idea of waging peace, an idea first presented by President Dwight Eisenhower at the SIS ground breaking ceremony in 1957 and which has remained central to SIS's values.
"As a professor at SIS, I see waging peace as a call to educate our students so they are prepared to challenge power and are comfortable with their role in that challenge," said Weiner. "We need to make sure they leave SIS with a command of the knowledge necessary to challenging existing narratives and offer alternatives. They need to be informed and skillful communicators. They need to demand 'why' of decision makers and have the information necessary to hold those decision makers accountable for both their actions and lack of action."
Learn more about the 60th anniversary of the School of International Service.