International
How we spent the summer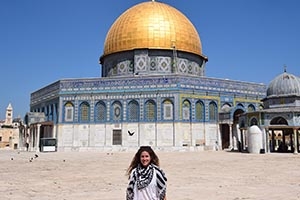 For many SIS professors and students, the summer months are just as productive as the academic year. Research, practica, and internships took many of them around the US and the world to interview local people, collect and analyze data, participate in social movements, and learn new skills. Here are a few of their stories:
Professor Garrett Graddy-Lovelace
Victoria Hill, SIS/MA '18
Rachel Lee, SIS/MA '18
Kimberly Maldonado, SIS/MS '18
Professor Rachel Sullivan Robinson
Professor Barbara Wien
Professor Joseph Young

Professor Garrett Graddy-Lovelace
With funding from a Dean's Summer Research Award, Professor Garrett Graddy-Lovelace spent August researching the history of collaboration between Cuban and Southern US agrarian cooperatives.
In the US, Graddy-Lovelace worked with the Federation of Southern Cooperatives (FSC), a group of US agrarian cooperatives "created in the Deep South during the Civil Rights era to keep small-scale family farmers, particularly black farmers, on the land in the face of discrimination, farm consolidation, and large agribusiness pressures."
For 15 years, the FSC has worked with the National Association of Small Farmers (ANAP) cooperative in Cuba on "everything from agronomy, to how to deal with pest and pathogens, to bean varieties, to fair trade exchanges, to how to operationalize cooperative principles."
The exchange between these two agrarian cooperatives over the past decade and a half is itself remarkable, said Garrett Graddy-Lovelace, given the "intense geopolitical tension" between the US and Cuba before President Obama lifted trade and travel restrictions and again now the with a renewed round of geopolitical tension.
"This example of cooperative-to-cooperative, farmer-to-farmer engagement and exchange is all the more important during times of increased or renewed political tension," she said.
Graddy-Lovelace will gather her research in an essay "chronicling the story of this collaboration between FSC and ANAP and contextualizing that history in the broader geopolitical context."
Victoria Hill, SIS/MA '18
Victoria Hill, SIS/MA '18, spent the summer working in the Political/Economic section of the US Embassy in Bridgetown, Barbados. A Charles B. Rangel Fellow, Hill completed the internship as part of her training for the US foreign service, which she will enter as an economic officer after graduation. She worked on annual human rights reports for the seven Eastern Caribbean countries that the embassy covers: Antigua and Barbuda, Barbados, Dominica, Grenada, Saint Kitts and Nevis, Saint Lucia, and Saint Vincent and the Grenadines.
"I was primarily working on the human rights report for Dominica and focusing on issues of press freedom, the rights of people with disabilities, and prison conditions," said Hill.
While writing this report, Hill toured the prison in Dominica, one of the most interesting experiences of her time with the embassy: "I heard directly from the superintendent of the prison about the changes they wanted to make. Because youth crime is a big issue on the island, the prison provided young inmates with anger management training, as well as woodworking and leatherworking training, so that they could leave with skills needed to successfully reintegrate into society."
Rachel Lee, SIS/MA '18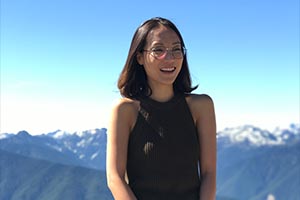 With the help of an SIS research grant, Rachel Lee, SIS/MA '18, traveled to South Korea to conduct interviews with North Korean refugees living in South Korea as part of the Substantial Research Project (SRP) for her MA degree.
Lee had previously worked on issues of human rights and humanitarian aid in North Korea, experiences which she merged with her interest in refugee resettlement issues for this project. "I became curious about the effects of increasing exposure to smuggled foreign media, which is illegal in North Korea, on the resettlement processes of North Koreans who later decide to leave the country," she said.
Lee conducted interviews with 17 North Korean refugees who fled for South Korea. Although still in the process of working through the findings from these interviews, Lee said that one clear takeaway is that media plays a strong role in the lives of North Koreans who decide to leave the country: "The media is powerful; powerful in ways of which we are not yet aware. However, whether or not a North Korean had been exposed to foreign media does not make them more or less human."
The research Lee gathered will inform her SRP entitled "Media, Defection, and Resettlement: Effects of South Korean Media on North Koreans."
Kimberly Maldonado, SIS/MS '18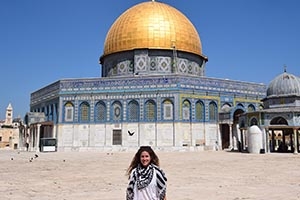 Kimberly Maldonado, SIS/MS '18, spent the summer in Tel Aviv, Israel, working for Glowbal Act. "Glowbal Act is a non-profit organization that provides employment rehabilitation and skills training for both women and men exiting pasts that have included exploitation, such as sex industries and trafficking," she said.
Maldonado created a detailed strategic work plan for the organization, including timelines, a SWOT analysis to examine organizational strengths and weaknesses, budgets, and a comprehensive logframe that shows project overviews. "This work plan is intended to serve as a guide for the project design team to prioritize tasks and work strategically towards launching a social enterprise that manufactures up-cycled travel bags," she said. The ultimate goal of this organization is to provide people leaving exploitation with long-term employment.
After her time in Israel, Maldonado is even more committed to this work and is looking ahead to her next project: "My passion for helping exploited survivors has only grown since working with Glowbal Act. Working with the organization has given me further insight into how I could design a model that works in Central America's context."
Professor Rachel Sullivan Robinson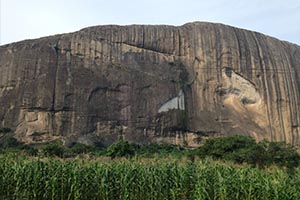 Professor Rachel Sullivan Robinson spent two weeks in Nigeria conducting dozens of interviews for two separate projects.
One project centered on maternal health outcomes in Niger State, located in Nigeria's predominantly Muslim north. As part of a collaboration between SIS's Accountability Research Center and White Ribbon Alliance Nigeria, an NGO focused on safe motherhood, Robinson studied the NGO's campaign to "encourage citizens to demand the health services and quality of services that they've been promised."
After speaking to religious leaders, local councilmen, health officials, and citizens themselves, Robinson found that the campaign has made headway in encouraging citizens to demand better quality care. In particular, following a town hall meeting facilitated by the NGO where citizens noted the lack of equipment in health facilities, state government officials made needed improvements. Robinson added, however, that "there is a lot that needs to be done," and noted that an economic recession due to dropping oil prices and a burgeoning population are stretching Nigeria's health resources thin: "There's a lot of challenges, but this campaign is one approach worth trying."
With funding from a Dean's Summer Research Award, Robinson also conducted interviews in Abuja for an ongoing project on politicized homophobia, which she and her collaborators, Professor Nicole Angotti of the College of Arts and Sciences and Tara McKay of Vanderbilt University, define as "the denigration of same-sex sexualities to achieve political gain." Robinson sought to find out not only why politicized homophobia has increased in Nigeria, but also how LGBT organizations are managing the hostile environment.
"A lot of LGBT organizations operate out of unmarked houses," Robinson said. "They're working very hard to provide their members with health services and to offer broader services that improve the wellbeing of LGBT populations in Nigeria," including dismantling the 2014 Same Sex Marriage Prohibition Act.
Robinson will return to Nigeria next summer to follow up on both projects and will ultimately publish articles about each of them.
Professor Barbara Wien
Building on 30 years of experience spreading the "peace-building strategies of women's movements" around the world, SIS Professorial Lecturer Barbara Wien spent her summer communicating and strategizing with the leaders of women's movements in Ukraine and Poland.
"It is an honor to work with these brave women's movements which are striving to de-escalate violence and repression, and in the case of the Ukraine, war," Wien said.
Wien worked specifically with the Ukrainian group Zakhyst, or the Unity of Mothers. The group was founded by mothers of soldiers in response to the challenges faced by women during the ongoing Ukrainian conflict with Russia. Zakhyst has attempted to build bridges between internally displaced people and local populations in both countries for mutual understanding and peace.
"They try to find a common goal between the populations on public works projects, particularly those related to childcare," Wien said. "The government is prioritizing military spending over domestic aid, so these women have tried to fill the vacuum and be a bridge."
Wien noted that Polish and Ukrainian women are going beyond the sex-role stereotypes in their societies to "focus on contributions to peacebuilding," even if they don't get credit for their efforts. "There's a proud tradition of mothers in this area of the world really standing up for the rights of their loved ones against very patriarchal and militaristic institutions," Wien said.
Professor Joseph Young
Professor Joseph Young organized a data hackathon in July to address the major challenges facing the implementation of a 2016 peace agreement that ended five decades of armed conflict between the Colombian government and guerilla forces known as FARC.
"Combining inspiration from think tanks and computer science, our hackathon sought to bridge the academic-policymaker gap," Young said, describing the conference held in Colombia's capital city, Bogotá.
Young and his colleagues pulled together data about the peace process from several sources, including USAID, the Colombian government, and their own survey results. Researchers at the hackathon were given access to data and asked to answer the question: "How can these data help us answer the big questions about the peace processes?"
The conference comes between phases of research that evaluate the impact of USAID efforts to help the peace process in Colombia by strengthening municipal government. Young said the idea behind USAID's work is that if local governments are stronger and more transparent, people will be less likely to use violence against the state.
Over the course of three days, the hackathon researchers analyzed the data, produced a final report, and presented their findings to Colombian policymakers. "It's pretty exciting that Colombia, which has had the longest running conflict in the world, has this chance to create lasting peace and that we get to play a small part to try to understand the results of the peace processes," Young said.
Young is considering holding a second hackathon in DC or Bogotá after conducting another round of surveys on the peace process.