International
Graduate students spend day visiting employers
A day-long career exploration and networking event brought more than 200 SIS graduate students to employers around DC on August 25. The annual Site Visit Program is an opportunity for all SIS graduate students to visit government organizations, NGOs, and corporations in-person to learn about each organization's mission, field of work, office culture, and employees' experiences.
Based on their career interests, SIS students chose to participate in one of 12 different groups that each visited three employers working in a specific field or sector. This year's groups included defense and security, foreign policy and diplomacy, intelligence analysis, human rights, international business and economics, and international development, among others. Overall, 32 employers participated in the program and welcomed SIS students to their offices.
Two students who attended the Site Visit Program reflected on their experiences throughout the day:
Kristina A. Biyad, SIS/MA '18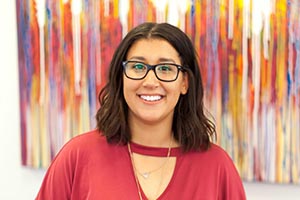 Visiting employers as part of the Human Rights Site Visit group was an eye-opening experience. We were able to speak with representatives at Human Rights First and Amnesty International. As an employee for a human rights international NGO myself, I saw many differences between the structures of these human rights organizations from my own and also between each other. It was fascinating to hear about the ways these organizations were founded and how they are continuously maintained around the United States and the world. I think there is no one way to run and maintain a human rights organization-thus, it was interesting to get a wide array of perspectives on the subject.
What I found most interesting was the origins of Human Rights First. The organization was founded by a group of lawyers concerned with the universal perception of human rights. They work to essentially lobby the US government to promote human rights principles around the world.
As a site leader for the program, I noticed that many students in our group wanted to discuss human rights violations in the US. I was glad to see so many SIS first-year graduate students who were concerned with the violations occurring right here in our own backyards. We found that both organizations have begun to prioritize human rights violations and hate crimes in the US more than they have in previous years. It is reassuring to know that these organizations are concerned with these important issues-and it was a great experience to welcome so many bright and socially active first-year students to our SIS community.
Jack Stanford, SIS/MA '19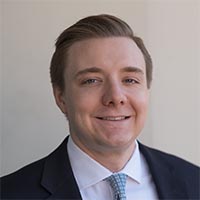 I participated in the International Communication and Media Site Visit group. I went into the day not really knowing what to expect, but I knew the subject of international communication and media excited me.
Our first stop was Brunswick Group, and right away I was impressed with the slick atmosphere of the office and the employees who presented to us. After visiting with them, I became extremely interested in the firm and the field of international public relations, something I had never considered prior to that. The second firm, APCO, was very similar to Brunswick, but most of the panelists who spoke to us came from a political consulting background. Finally, I thought our last employer, Internews, had an impressive and thorough presentation and panelists, even though I was less personally interested in the company itself than the others in my group.
Overall, the experience left me feeling more motivated to explore different career possibilities and gave me a better idea of work culture and day-to-day operations of organizations in the field. I thought it was a really effective way to compare the corporate, private sector feel of Brunswick and APCO to the NGO, non-profit environment of Internews. If this opportunity were offered again, I would do it in a heartbeat.