International
Students reflect on AU's Model G20 Summit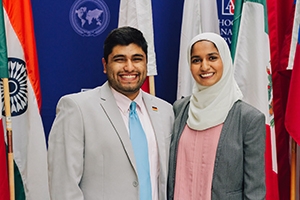 When we and our fellow students think of simulations, we often think of Model UN, and understandably so. Model UN has been the most prominent international organization simulation since its inception and we, as two students at the School of International Service (SIS), have been fortunate to participate in the AU Model UN team and conferences in the past. But this year, we tried something new and innovative: Model G20 (MG20).
As Summit General Coordinator (Nuha Hamid, SIS/BA '18) and German Sherpa (Kris Trivedi, SIS/BA '18), we welcomed 175 students from 15 different domestic and international universities and institutions to campus on October 6–8, 2017, to compete in the first-ever US-based accurate simulation of the annual Group of 20 (G20) Summit. Throughout the weekend, teams of undergraduate and graduate students represented member states of the G20, international organizations, engagement groups, and invited countries in a simulation of the most recent G20 Leader's Summit, which was held in Hamburg, Germany, in July 2017.
At the Hamburg G20 Summit, world leaders and heads of international organizations from across the globe discussed some of the most pressing issues facing the world community: trade and the global economy, climate change and energy, labor and unemployment, and migration and refugees. A few months later—with the help of MG20 Executive Director Cecilia Nahon and Associate Director Andrew Spath—our MG20 Summit challenged college students and interns from schools and international organizations around the United States to do the same at SIS.
MG20 students in the "Sherpa Track" negotiated on climate change and energy, migration and refugees, and development. Concurrently, students in the "Finance Track" discussed the global economy, trade and investment, and labor and employment. The ultimate goal of the MG20 Summit was to produce a "Communiqué", a collective statement of G20 Leaders in which they shared their common vision, goals, and agreed commitments regarding the state of the world—in particular, the global economy. MG20 students who represented individual countries also crafted an "Action Plan" that detailed their specific goals and initiatives to meet those challenges. Delegates were also invited to participate in a "Special Session on Terrorism," in which they produced an addendum to the Summit Communique detailing the body's plans to combat terrorism. Solutions included information sharing, stopping illegal financing, and promoting refugee integration programs.
Unlike most international organizations, the G20 does not have a bureaucratic structure in place; instead, it operates without a permanent secretariat or staff, and leadership rotates among its member states on a yearly basis. Currently, Germany holds the presidency and has set forth its own agenda priorities. Following this model, SIS MG20 students represented German presidency staff and were the lead moderators and negotiators throughout the weekend. In the months preceding the Summit, we learned about the intricacies of real G20 negotiations from Executive Director Nahon's first-hand experiences in the G20, in which she served as Argentina's representative. We also briefed ourselves on the key issues, challenges, and priorities facing Germany and the G20 by reading various G20 documents, writing several policy notes, and meeting with officials from the Embassy of Germany in Washington.
One participant, Diego Soto, who is an intern at the World Bank Group who represented the United Kingdom at MG20, reflected that "this experience has actually helped [him] to understand how negotiation works, how to compromise, and when to push hard on points that you believe are important." Unlike the United Nations, all G20 statements are adopted by consensus, meaning that all G20 members have to approve them. As MG20 is a fully-accurate simulation of the G20 Summit, students were required to try to "find common ground, find agreement, consolidate their interests and...cooperate instead of antagonize each other," says Zitian Sun, SIS/BA '18, who represented the World Bank Group at MG20. Participating students agreed that this experience made them more knowledgeable about the G20 and the role of economics in the sphere of international politics and challenged them to strengthen their skills in research, public speaking, and negotiation.
Now that our first MG20 is behind us, it is hard to believe that just under a year ago, the two of us sat in SIS 333, learning about the intricacies of the G20 for the first time and developing what was then a brand-new initiative. Although we are both Model UN-ers, at the time, neither of us knew very much about the G20 beyond the basics of the twenty member states—well, technically the 19 member states, plus the European Union. But we very quickly began to live and breathe all things Model G20.
While perhaps we didn't quite know what we were getting ourselves into last November, we found ourselves becoming more and more involved in MG20 because of our love of and passion for simulations and international organizations. We are happy to share this project with students from all over the country and look forward to staying involved in some capacity—even after we graduate. We're very grateful to Directors Nahon and Spath for giving us this opportunity to get involved in such a unique program and for the support from SIS over the past year.
To learn more about MG20, visit our website and follow us on Facebook.