International
Regional cooperation: the key to peace and prosperity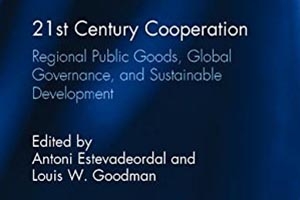 The future of peace and prosperity around the world depends on cooperation between nations. This idea forms the basis of 21st Century Cooperation: Regional Public Goods, Global Governance, and Sustainable Development, a new book co-edited by SIS Dean Emeritus Louis Goodman and Antoni Estevadeordal of the Inter-American Development Bank. The book also features chapters by several SIS contributors: Professor Amitav Acharya, Professor Michelle Egan, Professor Johanna Mendelson-Forman, Tom Long, SIS/PhD '14, and Teng Liu, SIS/MA '15.
"The purpose of this book is to put a focus on cooperation and how the world can organize itself to enhance peace and prosperity," said Goodman. Such cooperation attempts to "balance discussions based on hegemonic stability theory," or the idea that world stability depends exclusively on a powerful, dominant nation like the US.
The book focuses on regional public goods (RPGs) as a cornerstone of regional cooperation. RPGs are goods and services created within and available to anyone in a region, which Goodman defines as a set of neighboring countries with formal agreements to cooperate with each other. Goodman notes that use of RPGs by individual people or countries does not diminish the RPGs themselves. For example, trade systems and defense systems can be considered public goods. Each chapter of the text is devoted to the history of cooperation and provision of RPGs within different world regions, including the European Union and ASEAN.
21st Century Cooperation is the first part of a larger research project examining what Goodman calls "the most important process that's going on in international relations: cooperation." As part of this larger project, Goodman and his co-editor are also creating a database of all international treaties signed since 1945. Once completed, the comprehensive archive will be the first of its kind available as public resource.
"The goal of the project overall is to create knowledge about cooperation that can enhance scholarship in international relations and create information useful for policymakers trying to achieve greater stability, peace, and prosperity," said Goodman.
Opening borders in Latin America
Professor Johanna Mendelson Forman's chapter, entitled "Open borders: A regional public good," looks at the successes, constraints, and possibilities of open borders in Latin America. Why consider open borders RPGs? Mendelson Forman described open borders between countries as public goods because of their importance for cultural exchange, trade, infrastructure, and movement of populations.
"Latin America already provides a number of regional public goods to its residents," said Mendelson Forman. "The nuclear-free zone that runs from Mexico to Patagonia, for example, means that Latin Americans don't worry about nuclear attacks from neighboring countries. Various trade agreements, like the free trade zones in Paraguay and Panama, encourage cross-state commerce."
In practice, though not in law, Latin America has had porous borders between countries for many years. The result is that many countries lack formal agreements on how to handle their de facto open borders at the same time that they face increased criminality and unexpected flow of migrants from Haiti, the Middle East, and Africa.
Mendelson Forman noted that Brazil had previously led talks about legally opening borders in Latin America using a framework similar to the Schengen Area in Europe, which allows free movement of people and goods between 26 countries. "But after Brexit, the 2015 refugee crisis, and the terrorist attacks that plagued Europe, the concept of openness has been greatly diminished and the issue of open borders dropped off the radar screen," she said.
Acknowledging the "many legitimate challenges" that face open borders, including harmonizing laws between countries and addressing terrorism and drug trafficking, Mendelson Forman said that Latin America "needs to continue the discussion on open borders in order to use its social capital in a positive way."
Mendelson Forman contends that an open Latin American is still a concept worth actively pursuing. As for moving forward, she suggested that nations go back to the negotiation table: "They should look back and revive their interest in the Schengen model from Europe, encourage cooperation among police forces, harmonize trans-border migration of human capital, and create consistent customs regimes."
The EU's insiders and outsiders
Professor Michelle Egan writes about the provision of RPGs within the European Union in her chapter, "European regional public goods: insiders and outsiders."
An example of regional integration and commitment to regional public goods, the European Union promotes two often contending values among its member state, according to Egan. "The first is economic integration, competitiveness, and market access. The other is solidarity and provision of public goods to mitigate the effects of the market, providing both a safety net and a way to promote economic development and growth."
While those outside of the EU often focus on it as a world actor, "we tend to forget just how many regional public goods it provides internally within the EU," said Egan. "The 28 member states have various different levels of economic development, infrastructure, water quality, and a whole range of other public goods. The EU attempts to raise all boats and ensure that issues like trans-boundary pollution or health standards reach a certain level in those states."
Egan outlined three elements central to providing public goods, all of which the EU does for its member states: the allocation, regulation, and distribution/redistribution of resources and activities.
The EU uses a variegated model for providing public goods, meaning that certain states or localities, rather than the entire EU region, may receive specific benefits. "Regional public goods can be felt differently in different states and have unintended consequences-negative or positive," said Egan.
The ensuing disparities risk creating "insiders and outsiders" even within the EU, a possibility revealed through the 2009 Eurozone crisis and the ongoing refugee crisis. "The veneer of solidarity, which is central to the provision of public goods, had been under strain. It's revealed the limits of collective action," said Egan.
Far from pessimistic about the future of and importance of regional public goods, Egan said 21st Century Cooperation is particularly important at this moment because "we're in a period of economic retrenchment, and the US has an administration that is withdrawing from many global public goods efforts, whether it's climate change or UNESCO."
21st Century Cooperation: Regional Public Goods, Global Governance, and Sustainable Development is available to download for free through Open Access.
Join Goodman, Acharya, Egan, and Mendelson Forman for a book launch and discussion with additional guests on November 30 at 5:00 p.m. in SIS Founders Room. RVSP here.