Alumni
Alumna propagates social entrepreneurship through consultation and education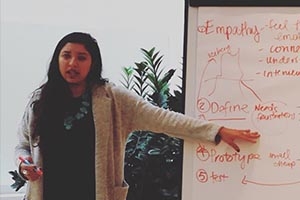 What started as an MA in Social Enterprise practicum project at the School of International Service (SIS) evolved into Strategic Good, a Washington, DC-based social enterprise that helps people and organizations combine their strategic mindsets with good, impact-driven business models through consulting and educational experiences.
As a result of strong relationships formed while a student, Alessandra Clará, SIS/MA '16, graduated and founded Strategic Good along with classmates Nick Boedicker, SIS/MA '14; Andreas Vailakis, SIS/MA '15; and Michael Cobb, SIS/MA '15.
"I knew I wanted to work on helping people design business models that focus on the triple bottom line: people, profit, and plan," she said. "I wanted to introduce the concept of social entrepreneurship to as many people as possible."
The goal of social entrepreneurship is to solve a cultural, social, or environmental challenge through business and entrepreneurship. The impact of the business is an equal priority to financial stability.
Strategic Good consults with organizations on developing business models to combine social impact and financial stability. The organization also teaches social entrepreneurship, innovation, and human-centered design (or design thinking) through workshops, classes, and curricula design.
"We've facilitated classes and workshops at Harvard, Georgetown, Stanford, and Dartmouth Universities and have worked with organizations like Hanes, Kate Spade & Co., LearnServe International, and United Way," Clará said. When desgining these classes and curricula, Clará and the team work out of the Impact Hub DC, a community-driven co-working space in the nation's capital.
Clará's career in social enterprise also offers exciting travel opportunities: "This summer, I taught a three-week social entrepreneurship program at Stanford University, led a workshop on design thinking for innovation in the Dominican Republic and Costa Rica in collaboration with INCAE Business School, and held another workshop for the incoming MBA class at Dartmouth's Tuck Business School," Clará explained.
Professor Robert Tomasko, director of the MA in Social Enterprise program, explained the value of social enterprise today: "Social enterprise is demonstrating itself as an alternative to traditional capitalism, which breeds inequality. Social entrepreneurship is thriving, as made evident by the increase in funds made available to social enterprises via the growth of impact investing, venture philanthropy, and social impact bonds."
Clará credits being born and raised in El Salvador as igniting her personal passion to make the world a better place through social change. Growing up, she witnessed social inequities. She believes when people are given the opportunity to complete an education and experience financial stability, social inequities will ultimately decrease.
Looking back, Clará is grateful for the community that she found as a student and that she continues to engage with as an alumna: "The most valuable part of my SIS experience was the unique opportunity to be part of a network of people who truly care about creating an impact in the world. The Social Enterprise program allowed me to meet individuals who aligned their work with their passion to make a difference."