Alumni
SIS Golden Eagles support future service leaders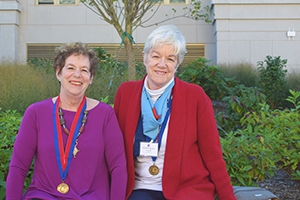 This year marks the 50th graduation anniversary, or golden anniversary, for members of the School of International Service (SIS) Class of 1967. To honor the memory of classmates who have since passed away, Kathy Kline, SIS/BA '67, and Charlotte Jones-Carroll, SIS/BA '67, established the Class of 1967 Prize in 2009. While the award is given annually to an international undergraduate student to pursue their education or a service-minded project, the Class of 1967 Prize also has provided Kline and Jones-Carroll an unexpected gift: the ability to connect with both their alma mater and with future service leaders.
Kline, who now lives in New York, and returns each fall to honor the recipient says: "Every year for me, meeting and spending time with these deserving undergraduate foreign students reinforces the true meaning of 'service' in the School of International Service's title."
Recipients in the past have used the Class of 1967 Prize to mitigate discrimination and conflict in Myanmar, study how German curriculum deals with the Holocaust in an effort to integrate those ideas into Japanese-Korean curricula, and more. This year the Class of 1967 Prize was awarded to Chelsey Cao, SIS/BA '18, who will use the prize to raise awareness about disabilities on campus and help international students with disabilities to take advantage of on-campus events and activities.
"The award gives us a chance to come back and learn. Sometimes young people mentor us," says Jones-Carroll. "I have mentored other people, and that's one way of staying in touch with another generation, but to be mentored in the sense of seeing how they've chosen to live their lives so far and at so young an age-they're 21 or 22 and doing these things-is very inspiring."
In the 50 years since they graduated from SIS, Kline and Jones-Carroll say that, in addition to the school's commitment to service, the meaningful engagements and connections they had with international students is one of the things they've come to cherish most about their SIS experience. To that end, the alumnae ensured that the criteria for the Class of 1967 Prize would reflect and support those qualities of SIS that they and their classmates hold in high regard.
"It's been very stimulating to hear what the next generation has been thinking and doing," says Jones-Carroll. "Kathy was just commenting that if we only engage with our own generation, we end up not growing in ways we could."
Learn more about the Class of 1967 Prize.
Learn more about the 60th anniversary of the School of International Service.