International
Combating HIV/AIDS at home and abroad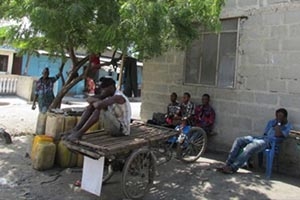 SIS Professor Nina Yamanis researches HIV risks and interventions in Africa and right here at home in DC.
For more than a decade, Yamanis has worked with young men in Dar es Salaam, Tanzania, to reduce HIV risk behaviors, sexually transmitted infections (STIs), and intimate partner violence (IPV). A recent $360,000 R21 grant from the National Institute of Mental Health will enable Yamanis to apply a similar approach to reducing HIV risk for adolescent girls in that same city.
In DC, Yamanis worked with the healthcare non-profit La Clínica del Pueblo to determine whether immigration status was associated with HIV-related service use among Latino men who have sex with men (MSM) living in the capital.
Using social networks to encourage healthy sexual norms
Yamanis spent the past 12 years working with young men in urban Tanzania to identify and reduce HIV risk behaviors by appealing to the men's social networks—small groups of about 20-50 men who hang out together. Now, Yamanis is embarking on a new project that takes a similar approach to finding girls' social networks and targeting interventions to reduce HIV and IPV risk among girls aged 15-19.
"Girls in sub-Saharan Africa are two to three times more likely to have HIV than men, and they also are at greater risk of IPV," Yamanis said. "Additionally, women who have experienced IPV are more likely to acquire HIV, so having a program that targets both of these factors is important for girls in general."
Currently, most HIV interventions aimed at African girls take place in schools, a practice that excludes girls who do not attend school and who may be at an increased risk for HIV and IPV. By targeting social networks that consist of friends and acquaintances, Yamanis can "reach people who are more vulnerable and are otherwise not reachable, especially in urban settings."
Identifying where young women spend time together is the first step in this new research. Yamanis and her team will conduct interviews with at least 150 members of a community in Dar es Salaam, asking everyone from taxi drivers to sex workers where young girls hang out. Once they gather a list of locations, the team will observe how many girls hang out in each location, when they do so, and whether there are any group leaders. They will then interview girls from different social networks and craft HIV and IPV interventions based on the composition and norms of the networks.
"Adolescence is a key developmental period for forming ideas around sexual relationships," said Yamanis, which is why her research focuses on reaching girls of that age. "Girls are just developing sexual relationships at that time. They're starting to develop norms around who controls sex, how you should ask to use a condom, and whether a man has a right to perpetrate violence against you if he doesn't like something that you do. We want to reach them before unhealthy norms are fully established."
Encouraging healthier norms around sex, relationships, and violence for young women means identifying the harmful norms within social networks and then creating interventions to address them. It's the power of peer influence in developing and sustaining these norms that undergirds Yamanis' focus on social networks.
"We think people tend to conform to whatever the norms are among their peer group," she said. "If we can change some of the norms for girls around how they perceive violence or how they engage in sexual relationships, then that might have spillover effects to all the girls in the group."
Immigration status and HIV among Latinos in the US
Professor Yamanis recently finished a project funded by the National Centers for AIDS Research, a program of the National Institutes of Health, that examined whether immigration status is a factor in HIV risk behavior and in accessing HIV-related services among Latino MSM living in DC.
"70% of new HIV infections among Latinos in the US are among MSM, so it's important to reach Latino sexual minorities. DC has one of the highest AIDS rates in the country and a large population of Latino immigrants," said Yamanis.
Yamanis and her team, which included several SIS students, interviewed 100 Latino MSM in DC. They found that immigration status—and specifically fear of deportation—was related to several sexual risk behaviors like meeting sexual partners in cruising spots and having sex under the influence of drugs. "We also showed that those who have greater fear of deportation were less likely to leave an abusive partner," said Yamanis.
Yamanis is still working through and publishing the data collected during this project, but cautioned that she expects that "fear of deportation has probably gone up" since the data was originally gathered just before Donald Trump's election.
Despite the differences between the populations she works with in Tanzania and in DC, Yamanis noted that "the intersection between stigma and access to healthcare exists in both places, even though the stigmas are different. Stigma and discrimination play into HIV risk in the US for sexual minorities, but they also exist in Tanzania. Women in Tanzania are often stigmatized for HIV because they're the first ones to find out their HIV status, which results in some women not wanting to seek healthcare." 
Yamanis hopes to take her approach to research in Tanzania and customize it to local populations: "I love social networks research because networks allow us to reach more people more quickly. I would like to take more of that work and apply it to the immigrant community here in DC."