International
Undergraduate scholar examines the effects of France's hijab restriction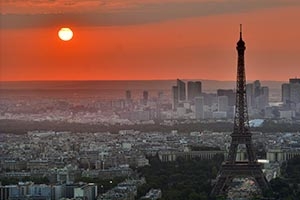 I looked at the news on my computer screen in awe: the mosque I planned on visiting the next day was just attacked by French Nationalists who believed Muslims were corrupting their country. A majority of these French Muslim families had lived in France for generations. Hate and tension, identity and acceptance; these were the motivations behind my summer research project. That evening, I gathered my notebooks and research materials and went to sleep determined to go to Creteil Mosque the next morning.
After receiving the AU Summer Scholars grant for 2017, I prepared myself for a summer full of great experiences and a chance to research France's restrictions on Muslim women wearing hijabs, a topic that had interested me since sophomore year. French law states that "as an application of the principle of the separation of church and state, the wearing of symbols or garb which show religious affiliation in public primary and secondary schools" is illegal. Through ethnographic and interview research, I planned to observe the impacts of this regulation on the education of French Muslim women who wear the hijab. I hoped to build on extant research by investigating disparities among young Muslim women in France who have chosen to compromise either their education or a part of their religious identity in order to follow the regulation set by the French government. I approached my research with the beliefs that wearing the hijab is a right of freedom of religion and expression and that having access to an education is a fundamental human right.
I went to Paris, France, and began to seek out young Muslim women who were willing to have me interview them on their experiences with the hijab in French public schools. At the beginning of the trip, I connected with a mutual friend who lived right outside of Paris near the Charles de Gaulle Airport. From this connection, I met her friends and met many other Muslim women in Mosques, non-profits, and other pertinent locations across Paris. I utilized snowball sampling, or introduction of potential interviewees through those whom I had previously interviewed, to find participants for my research. At the conclusion of my research, I met 40 incredible women who were willing to share their experiences and life stories with me.
I asked each interviewee specifically about her individual experience with the hijab in high school, as that was the original focus of my research. However, as I came to find out, many women who felt the repercussions of this ban did not only feel restricted in high school, but continuously felt as though French law was interpreted in ways that restricted Muslim women of rights throughout the entirety of their lives. Many of my interviewees shared a sense that French law first regulated the lives of Muslim women in high school with the ban on religious symbols, then in university education through loop-holes of the regulation, and then at work and in public spaces. Laws of the separation of church and state, as well as general notions of secularism, prohibited covered Muslim women in government jobs and public entities. Laws enacted by the European Union also complicated the lives of these women by allowing employers to reject job applicants because of their choice to wear the hijab. I heard many stories from covered Muslim women who were denied employment due to their choice to wear the hijab. After interviewing with particular companies, a number of these women were offered jobs under the condition that they remove their hijab prior to entering the place of employment.
To broaden my understanding of the impacts of the legislation, I met with members of nonprofits and organizations that support the inclusion of Muslims in France. I met with the spokesperson for the organization CCIF, which represents Muslims in France who have been discriminated against. Additionally, I met with one of the founders of Lallab, which is the first nonprofit in France that simultaneously fights for the rights of Muslim women and considers itself a feminist organization. I also met with Attika Trabelsi, a French Muslim woman who publicly countered the former Prime Minister of France in a debate regarding the rights of Muslim women in France.
Each woman I met had a unique story to tell. Every encounter, every interview, and every experience was eye-opening and led to a more in-depth understanding about the long-term impacts French law had on young Muslim women in France. The women who were unable to display their religious identity feel the repercussions of this ban directly impact their daily lives. Some have chosen to conform to societal standards of secularism and religious neutrality by not wearing the hijab, some have chosen to leave their home country, and others continue to fight for the right to practice their religion freely and stand against systems of oppression that attempt to marginalize their community. I stand with these women, and through my research, I hope to shed light on the matter and continue to support these women in their fight to gain religious freedom in all aspects of their lives.