In the Community
Building peace in DC's Shaw neighborhood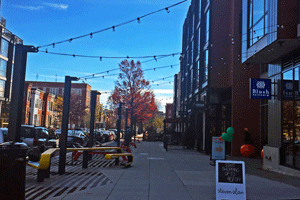 After Matthew Shlonsky, SIS/BA '14, fell victim to gun violence in the Shaw neighborhood of Washington, DC, in 2015, his family, friends, and the SIS community worked to establish the Matthew C. Shlonsky Memorial Fund for the District of Columbia. On Shlonsky's birthday, October 22, the first award supported by the Fund was presented to group of students who will use it to build peace in the community where Shlonsky was fatally shot.
"The tie between Matt's story and our project makes this work more relevant and so much more urgent. [Gun] violence is still happening there and we have a whole crew of people at AU working to reduce and mitigate violence. When it's happening in our own backyard, there's no reason we shouldn't be supporting peacebuilding initiatives like this," said Jessica Himelfarb, SIS/MA '18, who is one of the students working on the project.
The Matthew C. Shlonsky Memorial Fund for the District of Columbia is designed to support SIS students working with faculty on collaborative research or community projects that confront challenges facing the city of Washington, DC. The fund encourages students to utilize their international affairs knowledge to develop high-impact projects that support local communities in the nation's capital.
Award recipients Himelfarb; Nicole Phillips, SIS/MA '18; Katie Langford, SIS/MA '17; Becca Pugh, SIS/MA '18; and faculty advisor Hrach Gregorian are teaming up with DC-based nonprofit Alliance of Concerned Men (ACM) to pursue youth violence programming. Their project aims to reduce the cycle of violence and support youth advancement skills in the Shaw neighborhood. Currently, the group is preparing manuals about the cycle of violence, which often perpetuates itself through retribution violence. The team also is working on a "train-the-trainer" system that will prepare individuals to lead educational programming that encourages youth to explore alternative ways to mediate violence and solve problems.
"I think one of the things that ACM made clear when we met with them is that violence is often the first resort and there's an expectation for retaliation," said Himelfarb.
ACM has been actively reducing youth violence and addressing root causes of inequity in DC since 1991. In the past 20 years, homicide rates in DC have declined by nearly two-thirds, from 301 homicides were reported by the Metropolitan Police Department in 1997 to 106 homicides reported this year. While the number of homicides declines, the student award recipients and ACM say there's still work to be done, and conflict resolution strategies in at-risk communities such as Shaw can help.
"It's a tense political and social time and I think it's increasingly challenging to try and find civil ways to deal with difference. There's never a time when reducing violence is not important, but in the climate we have today, it's increasingly important to use our skills to do this kind of work," said Himelfarb.
Learn more about Matthew Shlonsky or support the Matthew C. Shlonsky Memorial Fund for the District of Columbia.