International
SIS welcomes Professor Naomi Moland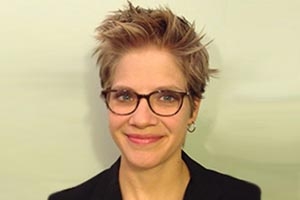 Professor Naomi Moland joined the School of International Service (SIS) from Teachers College at Columbia University this fall. An anthropologist interested in cultural globalization, Moland examines how ideologies are circulated around the globe-especially via education and media-and altered in different cultural contexts. Her book, Can Big Bird Fight Terrorism? Children's Television as Soft Power in Nigeria, is under contract at Oxford University Press.
What are your main areas of research?
My doctoral work focused on the Nigerian version of "Sesame Street." I looked at the show as a form of multicultural education aimed at teaching diversity, tolerance, and unity among the different religious and ethnic groups in Nigeria, but also as a form of cultural diplomacy. The US government has funded about 10 versions of "Sesame Street" around the world over the past 15 years. My work looks at how American ideas about multiculturalism, human rights, tolerance, and unity are circulated around the world and adjusted in different countries through adaptations of this popular children's show.
My second project is about the global circulation of LGBT rights discourses around the world and how these discourses are adapted or rejected in different contexts. With a colleague, I've done about 40 interviews with LGBT activists in different countries to learn how they address cultural and religious challenges to LGBT rights. We're studying how activists respond to commonly held beliefs about homosexuality-such as homosexuality being incompatible with a certain country's culture. How do activists combat those claims? This research explores complex dynamics of cultural imperialism, post-colonialism, and human rights.
What interests you about the global circulation of ideas?
The speed at which different ideologies are circulated around the world has increased with changes in media and changes in travel; we are becoming more and more connected. But even if ideologies or rights movements in different countries look similar on the surface, they're actually culturally specific. They are still very connected to the histories, cultures, and religions of those countries and regions. And there are very complex power dynamics involved in the circulation of ideologies that we need to be constantly aware of.
What brought you to the study of anthropology?
Before I began my doctorate, I taught immigrants in the United States for five years. I was very interested to see how the American school system was enculturating immigrants and trying to help them adapt, linguistically and culturally, to American society. I also studied bilingual and bicultural education in Spain to learn how another country deals with issues of immigrant integration and national unity with diverse populations. Those two experiences led to my interest in how countries "manage" diversity and attempt to build unity or peace among the different populations.
You are teaching intercultural relations and cross-cultural communication this year. Why are these important areas for SIS students to study?
Understanding culture-and how cultures evolve-is critical to understanding any international relationship. Every aspect of international relations must bring in and be conscious of complex cultural dynamics. In international relations, the concept of culture can easily become simplified. It's common, for example, for government programs or development aid organizations to say they want culturally sensitive initiatives, but then create programs that are only appropriate or relevant to a certain sector of society. People who study intercultural communications have to consistently interrogate the concept of culture, look at the power dynamics involved, and be very cognizant of the tendency for cultural sensitivity to lapse easily into reductive and stereotypical versions of cultural understanding.