Environment
SIS professor works to build global environmental peace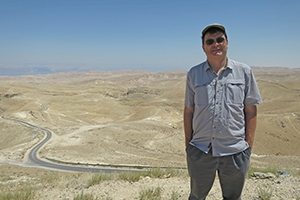 Growing up near Providence, Rhode Island, School of International Service (SIS) Professor Ken Conca remembers shell fishing in the bay with his father. Like many area locals, Conca's family enjoyed fishing as a pastime and also as a supplemental income. When the bay became polluted during Conca's teenage years, he noticed the impact it had on his community, which relied heavily on the bay. Conca recalls: "I was sensitized about it—how 'safe' is the water and can we even eat the shellfish?"
Years later, Conca's relationship with water has sustained and taken him around the world as an expert in global environmental governance, environmental peacebuilding, and United Nations environmental policy. "I see an enormous international cooperative, peacebuilding, and relationship-building potential for countries that work together on environmental issues. Water is such a good example of these kinds of issues because it flows. If you don't cooperate with people upstream or downstream, you can't do much with it. It's a wonderful illustration," said Conca.
He cites a real-world example in which water issues heighten a longstanding conflict: Israel and Palestine. Each summer, Conca and colleague Eric Abitbol lead a group of students in a practicum in which they travel to the Middle East to explore water and environmental peacebuilding efforts between Palestine and Israel. "Water is a contentious issue between Israel and Palestine because they struggle to cooperate on certain issues and, as a result, come into conflict over it," said Conca. In the practicum, Conca and his students study, assess, and critique projects that civil society organizations in the region are developing to help Israelis and Palestinians work together on water issues: "The hope is that those organizations can do their work more effectively from a peacebuilding sense."
While international environmental conflicts such as the one between Israel and Palestine occur worldwide, in recent years, concerns have risen over the impact climate change has on national and international security. Recently, Conca co-authored a policy brief regarding the role of the United Nations Security Council (UNSC) in climate change and global security. The brief cites the future of small-island states, growing resource competition, and the prospect of climate-driven displacement of vulnerable people  as examples of how climate change could generate international tensions.
Conca, who is a member of the United Nations Environment Programme's Expert Advisory Group on Conflict and Peacebuilding, says this issue has come up periodically for the UNSC during the past 10 years, but "with Trump pulling us out of the Paris Climate Accord, we're having a moment of growing urgency in global climate politics. There are countries that are desperate to move the dial on this," he says. By getting the Seurity Council engaged, however, Conca's brief suggests that interested parties should question whether the UNSC could take it on effectively. "Be careful what you wish for," Conca warned on this issue.
Though this issue is experiencing a wave of momentum, Environmental Peacebuilding, a book Conca co-authored 15 years agowith former student Geoff Dabelko, is widely considered one of the foremost publications to tackle environmental links to global peace and conflict. Conca's role in the UN Environment Programme's Expert Advisory Group on Conflict and Peacebuilding stems from his recognition that the agency was one of the first organizations to act on environmental conflicts as peacebuilding opportunities in such a way as discussed in Environmental Peacebuilding.
On January 30, Conca and Dabelko will be honored with the prestigious Al-Moumin Award and Distinguished Lecture on Environmental Peacebuilding, named after Dr. Mishkat Al-Moumin, Iraq's first Minister of Environment and a human rights and environment lawyer. The award recognizes leading thinkers who are shaping the field of environmental peacebuilding. "It's a great honor. People who have been recognized through this award in the past are true leaders," Conca said.
At the lecture, Conca and Dabelko will address their work in environmental peacebuilding and the challenges that lie ahead: "The conflict risks are real when it comes to environmental changes, but so are the peacebuilding opportunities."