International
Kathleen Kennedy Townsend speaks to SIS Graduate Student Council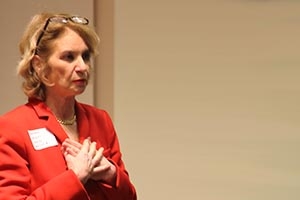 The School of International Service Graduate Student Council welcomed the Honorable Kathleen Kennedy Townsend, Maryland's first female lieutenant governor and former US deputy assistant attorney general, to speak at its Annual Leadership Dinner on February 1.
As graduate students, we are constantly asking ourselves: "What's next?"—a question that has become increasingly difficult to answer in our constantly changing world. While many graduate students may worry about what these changes mean for future careers, Townsend assured SIS graduate students that they can feel confident in their decisions to pursue a life of service to the international community.
Townsend began her address by reminding SIS graduate students of their ability to make an impact on the international community: "You are great, and the world is waiting for you." Despite inevitable uncertainties that lie ahead for graduate students, Townsend reminded those in attendance that there are always ways to make a difference, including both inside and outside of government. She made it clear that, regardless of public or private sector careers, a life of service is not always easy. She recalled moments in her own career when she was met with opposition and protest and discussed the difficult decisions leaders sometimes have to make. Nevertheless, Townsend said she never walked away from these "fights," and she encouraged SIS graduate students not to walk away either.
Townsend concluded her remarks by posing a question from Aristotle: "What is most important: friendship or justice?" After spending much of her life as a lawyer and serving as the deputy assistant attorney general, Townsend admitted that she had always assumed justice was the correct answer. Contrary to that belief, according to Aristotle, "justice is good to divide the needs of the city, but you need friendship to build the city." Townsend reminded us that collaboration is a useful tool, and one that has served her well over the years. She shared her experiences working with a number of distinguished leaders-including SIS Diplomat-in-Residence Caroline Croft and American University Chaplin Joseph Eldridge. It was through friendships like these that positive impact was possible, Townsend noted.
Hearing Townsend speak reminded the graduate students present that SIS is filled with some of the brightest, innovative minds and future leaders-and that, together, SIS students can make a difference in the world that is waiting for us.