On Campus
SIS@60: A Conversation with Ambassador Susan E. Rice & NPR's Joshua Johnson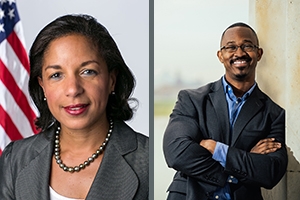 The School of International Service (SIS) welcomes Distinguished Visiting Research Fellow Susan E. Rice, the former National Security Advisor and former UN Ambassador, for a special event at 4:30 p.m., Thursday, March 8, in the SIS Atrium. Ambassador Rice will speak with Joshua Johnson, host of WAMU/NPR's breakout new show 1A, about America's role in the world -- how it is changing and what those changes mean for the international community and world order.
"SIS@60: A Conversation with Ambassador Susan E. Rice on America's Role in the World" celebrates the 60th anniversary of SIS against a backdrop of shifting political and policy norms. We look forward to a lively discussion with Ambassador Rice that will include questions from our audience.
"I look forward to discussing a wide range of global issues and the challenges facing U.S. leadership of the world," said Ambassador Susan E. Rice. "It is a timely discussion, and there is nowhere better to have it than SIS, which has a proud sixty year history of training the next generation of impactful leaders."
Tickets for "SIS@60: A Conversation with Ambassador Susan E. Rice on America's Role in the World" are now available. To receive email notifications about this event and other SIS events and news, subscribe to our mailing list.
About Ambassador Rice
Ambassador Rice joined SIS as a Distinguished Visiting Research Fellow in 2017. During her residency, she will work primarily on her next book and mentor SIS students on careers in National Security. Prior to joining SIS, she was the former US Ambassador to the United Nations (2009-2013) and President Barack Obama's National Security Advisor (2013-2017). She is also a Non-Resident Senior Fellow at the Belfer Center for Science and International Affairs at Harvard's Kennedy School of Government and a contributing opinion writer for The New York Times.
As the 24th National Security Advisor, Ambassador Rice directed NSC Staff and chaired the Cabinet-level National Security Principals Committee. She provided the President with daily national security briefings and was responsible for coordinating the formulation and implementation of all aspects of the Administration's foreign and national security policy, intelligence, and military efforts.
As US Permanent Representative to the United Nations UN and as a member of President Obama's Cabinet, Ambassador Rice worked to advance US interests, defend universal values, strengthen the world's security and prosperity, and promote respect for human rights. In a world of 21st Century threats that pay no heed to borders, Ambassador Rice helped rebuild an effective basis for international cooperation that strengthened the United States' ability to achieve its foreign policy objectives and made the American people safer.
Ambassador Rice also held positions as US Assistant Secretary of State for African Affairs from 1997 to 2001; Special Assistant to President William J. Clinton and Senior Director for African Affairs at the National Security Council at the White House; as well as Director for International Organizations and Peacekeeping on the National Security Council staff. From 2002-2008, Rice was a Senior Fellow at the Brookings Institution, where she conducted research and published widely on US foreign policy, transnational security threats, weak states, global poverty and development.
About Joshua Johnson
Joshua Johnson hosts 1A, a live daily talk show produced by WAMU in Washington, DC, and distributed by NPR. Launched at a tumultuous time for news and inspired by the First Amendment, Joshua Johnson and 1A bring new insight and inquiry to the most pressing issues of our time.

Joshua was born and raised in West Palm Beach, FL. He began his public radio career helping launch a unique regional news partnership between Miami's NPR station, WLRN, and The Miami Herald. Then he served for more than five years as morning news host for KQED in San Francisco.

Before joining WAMU, he co-created and hosted the provocative nationwide public radio series, Truth Be Told, which explored race in America. Joshua also taught podcasting at the UC Berkeley Graduate School of Journalism. He is an active member of the National Association of Black Journalists.