International
How Human Rights Activists Changed US Foreign Policy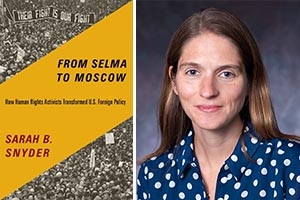 SIS professor Sarah B. Snyder's latest book, From Selma to Moscow: How Human Rights Activists Transformed US Foreign Policy, examines the role that activism of the "long 1960s" played in the incorporation of human rights into US foreign policy.
During this period, from 1961 to 1977, the US government elevated the importance of human rights in its dealings with other countries. This elevation was due in large part to American activists committed to both stopping human rights violations abroad and preventing the US government from supporting foreign governments that violated citizens' rights. Her book draws examples from five countries: South Korea, Southern Rhodesia (current-day Zimbabwe), Chile, Greece, and the Soviet Union.
Snyder explains that an important shift in the conversation around human rights occurred during these years. Activists interested in international human rights moved away from considering the rights of citizens or groups of people, and increasingly towards "the rights of individuals as human beings," she said.
Human rights activists in the long 1960s were largely concerned with specific rights that governments systemically violated. These included rights focused on bodily integrity, like freedom from torture, political imprisonment, and racial discrimination, as well rights allowing full expression in society, like the ability to practice religion and participate in government.
According to Snyder, "Some of the issues that these American activists focused on were rights that they knew they were entitled to as US citizens. They thought that one's citizenship to another country shouldn't preclude one's access to the same rights."
While the activists didn't fit one particular mold, Snyder said that lawyers, missionaries, and US foreign service officers accounted for a significant portion of those involved. "What all of these groups have in common is that they spent a significant period of time living and working outside of the United States and developed deep, personal connections with individuals in other countries," Snyder said. "It was these transnational connections that spurred Americans to become active on human rights."
Activists engaged in a range of tactics intended to bring human rights violations to the attention of the US government and to raise awareness of human rights abuses to the American public. Some activists were heavily focused on the US government's role in world affairs and testified before Congress or engaged in letter-writing campaigns. Others traveled abroad to undertake fact-finding missions, observe trials, and interview people about conditions on the ground.
Snyder said these activists had two main goals: "Their primary goal was to stop human rights abuses in these countries. If they couldn't achieve that, their secondary goal was to stop the US government from supporting repression in other countries with taxpayer money and US-made military equipment. It's this secondary goal where activists were more successful."
The greatest successes these activists achieved were legislative, according to Snyder: "Country-specific legislation that cut off assistance to Greece, South Korea, and Chile was passed. Then, more general legislation stating that the US government should not give assistance to governments engaged in gross violations of human rights was passed. It's out of this latter legislation that we get the annual country reports on human rights that the State Department still creates to this day. That was a really significant transformation of US foreign policy in my view."
Beyond pushing for and achieving changes to US foreign policy, these activists helped popularize the idea of human rights among Americans. "By having a bureaucracy tasked with monitoring human rights, a much wider American audience would inevitably become aware of and care about the human rights conditions in other countries," said Snyder.
While Snyder's book focuses on the history of human rights activism and US foreign policy during this specific period, she said it also has contemporary relevance for activists today. In light of the Trump administration's devaluation of human rights in US diplomacy and foreign policy, Snyder's book "highlights that individuals outside of the government and at lower levels within the government are able to impact US foreign policy."