First Person
Three minutes on empathy and conflict prevention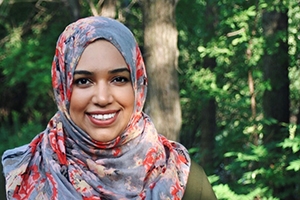 I recently won first place at the Three Minute Thesis (3MT) competition at the Association for Professional and Practical Ethics (APPE), in which I and other participants explained our research in three minutes. We were challenged to present our research in a language appropriate for a non-specialist audience and use only one PowerPoint slide as a presentation resource. My 3MT presentation, "Empathy: A tool for conflict prevention," began as a research paper for a previous Ethics, Peace, and Global Affairs seminar on modern moral problems.
My presentation and research explored the need for and utilization of empathy in conflict prevention. Sixty percent of all human conflict is the result of perceived identity by others. An increase in empathy can lead to more tolerance and humanization of those identified as "others," while a decrease in empathy can dehumanize and normalize violence. Research shows that it is possible to both train empathy in individuals and elicit empathetic responses from individuals. From my research, I saw that empathy can affect people en masse. For the purpose of the presentation, I argued that empathetic training ought to be a primary tool of conflict prevention, as it can lead to more tolerant societies and ultimately less conflict.

A unique aspect about my 3MT presentation and argument was that I did not define empathy as it's commonly understood: the ability to share and understand the emotions of others. Rather, I chose to use the definition of empathy that requires a basic appreciation of others' humanity: the ability to recognize the "other" as similar to oneself. This understanding makes room for respect and humanization of all, while leaving space for disagreement. You don't have to like someone to empathize with them, but if you don't like them, it doesn't mean they are less human than you are.

Overall, my experience in the 3MT competition was remarkable—it was also my first time participating in a competition or presentation of this nature. Having to present my thoughts and research coherently in less than three minutes was a challenge, but it has inspired how I will deliver future presentations: with confidence, clarity, and engagement. I am grateful for the encouragement of my professors and for their support of this research and submission to the 3MT competition.