International
Working toward a more equitable world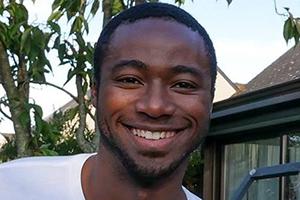 International Development student Adam Odomore, SIS/MA '19, who grew up in Nigeria, has seen first-hand how a lack of opportunities and resources can hold back talent and success. Perhaps because of this, he is motivated to avail himself of all that comes with being a graduate student at the School of International Service (SIS): education, internships and professional experiences, a supportive community, and a chance to pursue his passions.
But Odomore's career path almost followed a different road, one that likely wouldn't have led to SIS at all. Originally, he wanted to be a doctor.
In Nigeria, where access to affordable and quality healthcare is limited for many, childbirth complications are not uncommon. Odomore's mother died during his birth. Because his father provided for his family from America, Odomore was raised in Nigeria by his grandmother and his aunt. During the birth of her third child, Odomore's aunt also passed away.
"I wanted to become a doctor to help mortality rates for moms and babies and create more opportunities for healthcare," he says. "But then I realized that healthcare is just one symptom of the issue, really. There's a bigger underlying factor of poverty and education."
Today, Odomore is working to improve livelihoods and communities through women's education and empowerment: "The education of girls helps solve poverty, affects health and child marriage, and tackles other root problems." Ultimately, with more educated girls and empowered women, Odomore says international development work will become more gender equitable as well.
Through his studies and his experience, Odomore understands that a significant portion of women's empowerment work and gender equity involves engaging men on the issues: "For development to actually be successful, we can't work with women only, because gender includes more than just women."
Men's engagement, Odomore explains, is getting fathers, brothers, and community leaders on board with women's empowerment and helping men better understand how educated and empowered girls can improve communities as a whole: "It's also understanding how to influence leaders in communities, how to work with them to create policies that help women's empowerment initiatives, and also changing their perceptions of what it means to be gender equitable and what gender equality actually means."
Ultimately, Odomore's contribution to improving gender equity is conducting and writing policy-relevant research. As an intern at Women for Women International, a global nonprofit that supports marginalized women, he prepared and presented a report about men's engagement programming to organization leaders. His report included best practices and challenges in men's engagement initiatives and an assessment of Women for Women International's model for men's engagement programming.
While improving livelihoods for women and transforming gender norms is an uphill battle that has long been fought, Odomore says he's beginning to see some victories around the world.
"It's becoming more visible with #MeToo happening. People are recognizing that we need to change these gender norms and that men need to be educated on gender rules and patriarchy. There is progress being made right now and I want to continue to be part of this movement, part of this change, and to help inform and help create policies that keep the momentum going. It's just the beginning."