International
How We Spent the Summer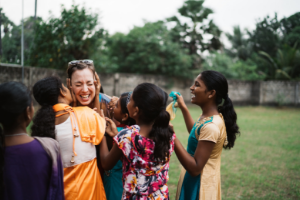 For many SIS professors and students, the summer months are just as productive as the academic year. Research, practica, and internships took many of them around the US and the world to interview local people, collect and analyze data, participate in social movements, and learn new skills.

Here are few of their stories:
Julie Walton, SIS/MA '19
Annelise Straw, SIS/BA '18
Professor Robert Kelley
Abrar Rageh, SIS/MA '18
Veronica Ferris, SIS/MA '19
Julie Walton, SIS/MA '19
Julie Walton, a graduate student in the Social Enterprise program, would be the first to tell you she never planned to go to graduate school – but after five trips to Sri Lankan orphanages, she felt compelled to do more. She kept hearing from boots-on-the-ground organizations and officials that there was only so much they could do without broader institutionalized reform, so she decided to pursue lasting change via policy.
Walton spent three weeks in India and four weeks in Sri Lanka traveling to various cities and children's homes to observe how they support kids in their care. The goal was to replicate the methodology a successful Indian NGO uses to quantify whether a child's needs are met in Sri Lankan children's homes, a country with many cultural similarities. But that might sound simpler than it is, according to Walton: "India is more institutionally developed, so they have more childcare professionals and set standards of care for homes supported by this network."
"The methodology the Indian NGO I observed is based on the Convention on the Rights of the Child. So, the organization has taken the rights that are delineated there and developed a methodology to ensure access to those rights in a way that mirrors what we would presume kids would receive being raised by their biological families."
These rights include items like nutrition and education as well as rights people in the West may not consider, like the right to be protected from exploitation and access to toilets. By scoring these rights across different countries and cultures, the hope is that the core elements – the essential needs of children – will reveal themselves, and research like Walton's will provide valuable insight into how we can best care for kids in need all around the globe.
Walton is humble about her research and isn't sure what the next step will be for its application, but is determined to help however she can: "I just want to see us do better. I want us to prioritize because not all needs are equal. For children without anyone in their corner, they're living day-to-day without advocacy – and sometimes, even if there's a care giver, there might not be any oversight into their standards of care. It's humbling to work with the people tucking these kids into bed each night, and I'm grateful for the opportunity to learn from them."
Annelise Straw, SIS/BA '18
Why, in an area with an abundance of productive land, are residents malnourished, obese, and food insecure? One SIS undergraduate student returned to her grandmother's home in rural Appalachia last summer to dig deeper into what goes wrong for residents looking to access healthy food.
According to Annelise Straw, to understand today's food insecurity, you must understand previous generations' abundance: "These towns were created with the boom of coal, and now, with the bust of coal, locals are having to travel an hour to two hours away to find jobs."
More time commuting means less time at home to tend a garden or work the family farm – plus decreased job opportunity and lower wages mean that proportionally, there is more upfront cost to plant. Why bother when a box of shelf-stable food is immediately available for two dollars nearby?
Economics certainly play a factor, but Straw also found limited access to fresh produce in the area: "I was shocked at how little variety of produce there was – mostly just corn, potatoes, cucumbers, and iceberg lettuce."
Despite the region's high soil quality and available land, most of the area is monopolized for high commodity cash crops like corn and tobacco, produced and exported for out-of-state consumption.
Straw continues, "In an area with so much land, why aren't people in Central Appalachia growing their own food and hosting farmer's markets with locally grown fresh produce like they do in high-income areas of nearby cities? Unfortunately, the food, and the farms, and the work just aren't there. Food insecurity is more than just having an adequate amount of fruit – food procurement, socio-economic circumstances, and historical events all impact our local food economies."
She hopes her research will be used as a microcosm for the study of food security in other rural areas.
Robert Kelley, faculty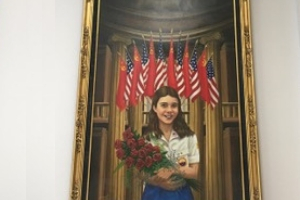 A recipient of the Dean's Summer Research Award, Professor Robert Kelley spent his summer researching the life and legacy of Samantha Smith, a Maine schoolgirl who rose to near-overnight fame after exchanging letters with then-Soviet leader Yuri Andropov.
In 1983, Samantha's correspondence led to an invitation to visit the USSR, and the powerful impression she made became an unexpected cultural diplomacy coup. Later, her sudden death in a 1985 plane crash sent shockwaves around the world, with both Americans and Soviets mourning her loss.
Kelley visited the Ronald Reagan Presidential Library archives in Simi Valley, California and conducted interviews around the US and former Soviet states: "She left a powerful impression in both countries, and the celebrations of her life in each of these societies have taken different paths. The research I conducted over the summer contributed to my reconstruction of her story and will assess the ways in which she is remembered in the decades since."

His goal is to better understand the human impact of one citizen's cultural diplomacy.
Abrar Rageh, SIS/MA '18
Recent SIS graduate Abrar Rageh spent her summer in Doha, Qatar, interviewing Egyptian activists who were active in the 2010-2011 Arab uprisings commonly known as the Arab Spring. While at AU, Abrar developed a resilience-building framework based on her research with communities of color in the US and Puerto Rico. A student from the Ethics, Peace, and Global Affairs program, she was particularly interested in researching how communities build resilience after collective trauma and disrupt the negative feedback loop that further demoralizes the disenfranchised.
Rageh discovered that Egyptian revolution participants, many of whom witnessed or experienced tragedy first-hand, are increasingly demoralized. The same individuals who once fought for and encouraged a sense of pride in their Egyptian identity are now facing a unique set of challenges that include isolation and the ongoing physical threat against themselves and loved ones remaining inside Egypt.
While post-revolutionary Egypt brought forth a newfound social and political consciousness for its citizens, Rageh found the expatriated activists she spoke with were unanimously hopeless and burnt-out: "The levels of demoralization are high, as proven through other research, but at the end of many conversations, people expressed their gratitude and seemed hopeful at the possibility that things could change for the better. One activist said to me, 'It is a breath of fresh air to know we are not forgotten, that the revolution isn't forgotten. At least we can speak with someone about this; people who are far removed from the revolution and its values don't really get it.'"
Rageh argues that resilience is both key to catalyzing a revolution and a tacit form of resistance in the face of repression. Her research builds a framework hoping to encourage and revitalize the community by providing resiliency-building techniques and workshops, and despite the challenges, she remains inspired by the belief that when people take control of their agency, they can reclaim their freedoms.
Veronica Ferris, SIS/MA '19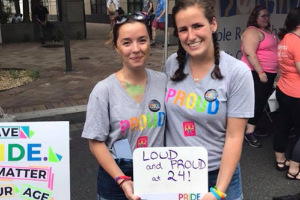 Veronica Ferris spent the summer in Washington, DC, taking summer classes at American University and volunteering at Iona Senior Services under her Returned Peace Corps Volunteer Coverdell Fellowship.
For her course on fundraising and grant-writing, she developed a mock grant proposal using the example of a real solar energy project she previously worked on while volunteering with the Peace Corps in Namibia. Ferris, a graduate student in the International Development program, also enjoyed her monitoring and evaluation course and looks forward to putting her skills to use as she conducts needs evaluations and plans projects in the developing world.
As a volunteer at Iona Senior Services, Ferris participated in the Capital Pride Festival, encouraging LGBTQ+ people to have pride at any age, and promoted local services for older adults in the area. She created a database of older adults in need of volunteer assistance, and coordinated volunteer matches while working hand-in-hand with social workers.

Volunteering at the Capital Pride Festival was a particularly meaningful experience for Ferris: "As someone who has been involved in service in the LGBTQ+ community for over a decade, it was an amazing opportunity to discuss pride with people of all ages. I hadn't thought a lot about the intersection between pride and aging, and the importance of still finding ways to celebrate as a senior citizen. It was so uplifting to hear people give advice to their former selves, and to help display people's quotes for everyone to read and be inspired by."
She plans to continue volunteering with Iona Senior Services throughout the fall semester, and is looking forward to learning even more about coordinating volunteers — a skill that will be invaluable in her future work in international nonprofits.