International
Empowering Women in Indonesia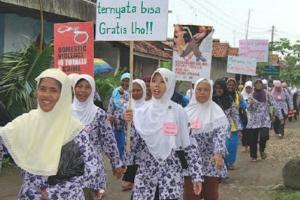 The School of International Service's Accountability Research Center (ARC) has published a new paper co-authored by the founder of an Indonesian women's organization that works to empower marginalized women. Here are a few of the key takeaways for successful movement building based on the organization's work fighting for women's rights.

In Indonesia, women heads of household who are widowed, abandoned, or divorced are often referred to as janda—a Bahasa language term with negative implications. They are often marginalized by their communities through exclusion from their villages' decision-making processes and by their government through a lack of legal status, thereby being denied their legal rights as citizens. Working morning to night to support their children and themselves, they face loneliness and isolation due to the stigma that comes with being heads of household. 
In 2001, Nani Zulminarni, an Indonesian gender and development specialist, realized that marital status and class played a significant role in the issues that the poorest women in the country face. She founded Perempuan Kepala Keluarga (Women-Headed Family Empowerment, known as PEKKA), an organization that uses movement-building strategies to increase the power and voice of its members, in response.
"Widows, divorcees, single women, abandoned women…they are the poorest of the poor in Indonesia," says Zulminarni. "They face multiple problems including stigmatization, exclusion from social systems because they don't have husbands, [and] very low statuses. They are discriminated [against] in many ways."
PEKKA's work is rooted in a vision of women's collective power and participation for social change. The organization supports women's empowerment through economic cooperatives, literacy and leadership training, legal empowerment efforts, and by shifting social norms and perceptions about women heads of household in Indonesia.
"Movement-building for Accountability: Learning from Indonesian Women's Organizing," documents the measures that PEKKA successfully used in the hopes that women around the world may similarly be able to more effectively uplift women as local leaders and improve their lives.
Transparency, participation, and accountability efforts that aim to hold powerful institutions and governments accountable to citizens have been underway for a long time, even though social movement organizers are often not using those specific terms to describe their work. That's why SIS Professor and Founder and Director of ARC Jonathan Fox, believed it would be important to collaborate with PEKKA on this paper—to bring the experiences of PEKKA's movement building work to the attention of those focused on accountability work.
"[PEKKA members] are very well known in the world of women's organizing, particularly to those working on Muslim women's rights…, but they had not been recognized for doing accountability work. So our goal was to work with them to tell their story through a new lens to reach new audiences," says Fox.
PEKKA's Theory of Change 
PEKKA has effectively organized more than 31,000 divorced, single, abandoned, and widowed women with the help of 56,000 participants to date. The organizers are feminists working within the frame of a majority Muslim culture, necessitating the need to navigate change within traditionally conservative social norms. To achieve this, the organization creates connected communities of Indonesian women who work with each other to gain influence in the power dynamics that affect their lives.
Providing Economic Stability
PEKKA believes empowerment starts with providing economic stability. The organization does so by forming small-scale savings and loan cooperatives in different villages. When women join the cooperatives, they can pool small sums of money together that grow over time and can be borrowed for approved projects. PEKKA organizers introduce these cooperatives by building trust and excitement at gatherings where women can discuss their hopes and dreams and the daily challenges they face. PEKKA's intimate model is creating ripple effects around the country and proving that one village's women gathering can lead to policy changes that empower a nation.
"I share stories I heard from other villages who have the same problems. This is an important part — to explain what other women have done to change their situations. After two or three months, we'd form a team with a vision and mission. With ten women, you are able to change lives," says one PEKKA organizer.
Developing Leadership Skills
As women save and grow their resources, PEKKA helps them develop their critical thinking skills. They challenge the women to examine societal assumptions along with the power dynamics that maintain inequality and discrimination. Cooperative members analyze case studies of existing local problems, create strategies to address them, and learn new skills to manage challenges that might emerge.
PEKKA's Paradigta Academy is another avenue for developing leadership skills. It's a training center that grows women's leadership abilities so that they can participate in their villages' governance. Each participating village sends five women to participate in training modules, which teach topics like "Governance and budgeting," "Advocacy," and "Community organizing." And it's working — members are now involved in local government planning processes in 76 districts across 20 provinces in Indonesia, six of whom have been elected as leaders of their villages.
Participatory Research
PEKKA members benefit from participating in research initiatives. The organization partners with researchers to increase its credibility with policymakers, legitimize data that it can use for advocacy, and improve the analytical and information-gathering skills of its staff and members.  
A survey of PEKKA members studying challenges in accessing justice found that 90% of the women surveyed were unable to access courts for their divorce cases due to financial costs. The organization then shared these findings with the Supreme Court of Indonesia and the Baldilag (Director General of the Religious Courts), which resulted in policies that gave women-headed households wider access to courts.
Legal Empowerment
Women in rural parts of Indonesia often struggle to afford legal fees, obtain identity papers to qualify for government services, report domestic violence, or file for divorce.  A PEKKA organizer explains: "Women entering court were often intimidated and uninformed on the processes or their rights."
As a response, PEKKA has made legal empowerment a priority. Not only do they train women paralegals to focus on domestic violence and family law, but they also form teams of such paralegals to accompany and support women in court. These paralegals have assisted in more than 125,000 cases related to family issues and supported more than 65,000 children in receiving their birth certificates.
Presence in the Media
Women who are a part of PEKKA get to voice their perspectives and share their work through a variety of media outlets by learning how to create videos on key issues and gain support from decision-makers via social media and community radio stations. Commercial media outlets also cover PEKKA's work, which leads to the widespread promotion of the organization.
Key Lessons for Women's Movement-Building
Based on PEKKA's strategies, these are the five key lessons for women's movement-building organizations to keep in mind:
Address underlying institutional and cultural causes of social exclusion to create the confidence and space needed for women to exercise their voices and take collective action.
Use economic empowerment to build social foundations for autonomous voice and civic engagement.
Build countervailing power through action strategies that scale up member voice, leadership skills, and opportunities for participation in all aspects of the work.
Produce diverse forms of evidence for multiple audiences to advance advocacy strategies and maximize impact.
Cultivate allies and relationships inside and outside government and at multiple levels to expand impact and deflect opposition.
If you would like to read "Movement-building for Accountability: Learning from Indonesian Women's Organizing," visit ARC's website.