Student Life
All the World's a Stage for International Studies Students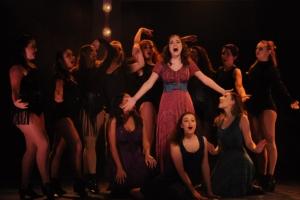 When you think of the typical student majoring in International Studies, a college experience immersed in showtunes probably doesn't come to mind. But for SIS sophomores Janie Goheen and Spencer Coben, their interests in global affairs are coupled with a love of the stage, which is why they've performed in multiple musicals throughout their time at AU. After auditioning for the College of Arts and Science's Department of Performing Arts' fall production of Pippin, both Goheen and Coben landed leading roles: Catherine and the titular Pippin.
As someone who also spent her college days singing and acting in productions, I was curious to learn more about Goheen and Coben's passions for theatre and how those passions intersect with their SIS experiences.
Participating in Theatre at AU
Goheen and Coben performed in a variety of plays and musicals before attending AU, and both intended to continue acting and singing while pursuing a BA in International Studies.
"It's my creative outlet, and it helps me stay well rounded," says Goheen. "There's an aspect of theatre that creates a more thorough college experience because I get to experience new things and meet new people."
Coben refers to the AU theatre scene as his home. After arriving at AU freshman year, acting was an activity that helped him adjust to the stark differences between his home state of Arizona and DC: "I like the community aspect of theatre. It's so diverse, and there are people of all different backgrounds and lifestyles… I'm really comfortable doing theatre and being a part of SIS, and AU makes it really easy to do both."
Theatre and SIS
At first glance, international affairs and theatre aren't the most obvious of pairings, but Goheen has found that the abilities she uses on stage can also be applied to areas like global politics.
"Theatre skills help with most things, especially in fields like international relations where so much of it is communication-based. Communication is an incredibly important part of global conflict resolution and global governance," says Goheen
Coben specifically wanted to pursue a degree through SIS because of how the undergraduate program parallels the way theatre allows actors to experience various cultures: "As a school of service, SIS bridges gaps between cultures and people. It's similar to theatre in that sense, and it's what drew me to SIS."
Performing in Pippin
The musical follows a young prince named Pippin as he yearns to find meaning in his life and discover what he's meant to accomplish. With commentary on family, aging, and self-discovery, it's the kind of show that's meant to portray the human experience. Coben connected with his role as Pippin, noting that it's the kind of character that resonates with many young adults.
"The story of Pippin, a kid who's lost, trying to find his way, who doesn't know what he wants in life—there are a lot of terrifying parallels that I think plenty of people who go to see the show can relate to," says Coben.
Goheen's character, Catherine, is a big driver of the second act, leading Pippin to realize that a simple life can be a fulfilling one.
"My favorite part about playing Catherine is the fact that she's so silly, but at the same time emotionally vulnerable. Singing 'I Guess I'll Miss the Man' was the first time I've ever had to stand on a stage by myself and be that vulnerable," says Goheen. "Performing in Pippin – it was an amazing experience." 
With a zeal for the spotlight, Coben and Goheen both aim to participate in future AU productions.