Student Life
SIS Student Lifts the Voices and Perspectives of People of Color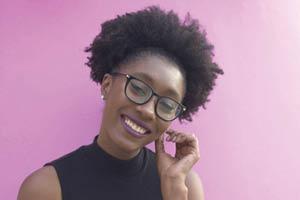 When SIS student Jenna Caldwell began her studies at AU, she decided to start writing for The American Word Magazine (a former, on-campus publication). She enjoyed creating content for the magazine and gained a variety of editorial skills, but was frustrated and disappointed by the publication's editorial direction:
"I felt like I was being tokenized a lot of the time because I was black, being asked to cover certain topics because of my race," says Caldwell.
During her sophomore year, Caldwell was excited to learn about the newly-launched online publication, The Blackprint. Not only was it a new, student-run magazine, but it also doubled as a safe space for people of color at AU. She eagerly applied for a position.
Today, Caldwell serves as both The Blackprint's co-president and co-editor in chief. 
The Blackprint
The publication is an extension of American University's Association of Black Journalists (AUABJ), which is an organization committed to supporting student minority media professionals through networking opportunities and events that feature communicators of color.
"The organization helps black students when they feel that they can't be helped anywhere else," says Caldwell. "I think that in a space, especially in a predominately white institution, it's important for students to feel that they can get the kind of mentorship that AUABJ provides."
According to Caldwell, students who write for The Blackprint are especially interested in contributing to the culture section—an area of the magazine with a focus on cultural advancement.
"There aren't necessarily spaces to publish these kinds of pieces anywhere else," says Caldwell.
She believes it's important for publications like The Blackprint to exist because people of color don't always see themselves represented in media. 
"Someone asked me the other day if there is going to be a need for The Blackprint in the future, now that other publications are trying to become more inclusive and diverse. I think there will always be a need for The Blackprint," says Caldwell. "Because people of color don't want to be a side tab or a section of a publication. There should be a full publication that's specifically for this group of people."
One of her favorite aspects of working at The Blackprint is the close-knit community, and several members of the student org have even become her dearest friends.
"I love the people who are a part of the publication," says Caldwell. "There's this notion that there's competition between members of student organizations, but that sort of environment doesn't exist at The Blackprint."
A Publication that Inspires Her Career Trajectory
When Caldwell first joined The Blackprint, she wasn't expecting to one day become the magazine's editor-in-chief. But in the span of a few semesters, she transitioned from managing the organization's social media channels, to editing stories, to her current role serving as co-president and co-editor in chief.
"Initially, as an International Studies undergraduate student at SIS, I really didn't know how to edit, so the biggest transition for me was going from being social media manager to editor," says Caldwell. "When I first started at The Blackprint, I didn't know anything about journalism, but I've always liked writing. I was able to learn how to apply my writing skills toward journalism until, over time, the field became a good fit for me."  
Caldwell is taking steps to become a journalist after she graduates; this semester, she is interning at NBC's Meet the Press: "I've turned a total 180 degrees. I know now that it's the path I want to go down."
Not only has The Blackprint benefited Caldwell's career goals, but working at the publication has inspired her to, one day, create a news show that focuses on black diaspora communities.
"I really want to work for VICE to create a show that highlights the different black diaspora groups from around the globe. Not all people realize that they have this connection to the black diaspora, and we often get lumped together as being black, but there are a lot of differences between the groups."
Working at The Blackprint increased Caldwell's awareness of the variety of black cultural identities and experiences. Through the magazine, she has collaborated with people of different backgrounds, including students from Africa and the Caribbean.
Caldwell wants The Blackprint to thrive, to continue lifting the voices and perspectives of AU's people of color.
"My main hope for the future of The Blackprint is for it to still be here in the coming years. I hope that, as the leadership of the publication continues on, that those in charge make sure that The Blackprint stays relevant, on-campus, and visible."