International
The Right to Recreation in DC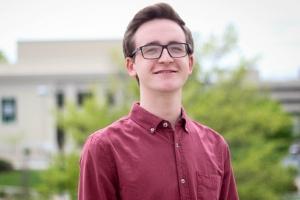 Theodore Freudenberg found his career path two years ago when he began studying sustainable urban planning in DC. As an SIS student with an interest in international urban-planning, he anticipated a certain degree of disability inaccessibility within the city's many parks, but it wasn't until he began his senior capstone course on Inclusive Sustainable Development that he discovered just how many resources were missing for people with disabilities in our nation's capital.

Before the capstone, he spent a summer in New Paltz as a recreation planner for the New York City Department of Environmental Protection. He looked at the state's existing resources and discovered new ways to implement much-needed universal access. He was quickly inspired to map out similar access discrepancies in his home-away-from-home in Washington, DC.

Freudenberg explains, "I visited places like Rock Creek, the National Arboretum, and Fort Reno in Tenleytown, and you can quickly see that some of these parks aren't as accessible for persons with disabilities…and there's a lot that the city could do, from actually retrofitting older buildings to something as simple as even improving their websites."

But as our students know well, to tackle policy, you must first provide research demonstrating a need for change. Freudenberg is galvanized now to apply methodology skills he has learned at AU to hopefully make a difference in the lives of his fellow Washingtonians.
Framing the Issue, Demonstrating the Need
He began by comparing domestic legislation, including local DC disability laws and the Americans with Disabilities Act, and compared their goals and frameworks to those set by international organizations, like the United Nations' Sustainable Development Goals and New Urban Agenda. He soon discovered a series of disheartening discrepancies between the international and domestic goals for inclusive recreation. Most startling, perhaps, was the absence of city planning efforts specifically towards increasing access for people with disabilities.

"The DC Parks Department has a master plan, and the most recent one I could find was from 2015, where they made no mention of persons with disabilities at all. The plan did set targets and indicators for other groups: encouraging the participation of different races and income levels. But they didn't have any targets for persons with disabilities. That was three years ago, so if they update that now with more of a movement towards inclusive recreation, it would be more beneficial for everyone. Even just having a concrete goal, say increasing mobility access by 25 percent in these parks, would be encouraging," says Freudenberg.

Freudenberg documented the different types of barriers Washingtonians could expect to encounter while attempting to enjoy one of the city's recreation spots and categorized accessibility issues into three major types of barriers. The first of these were physical hurdles people with disabilities might encounter. Freudenberg measured the level of difficulty travelling from the curb to the park's building entrance and how many of the pools or tennis courts are wheelchair accessible.

Secondly, he compared the language in accessible legislation between domestic and international recreation standards, coding the types of words used in reference to people with disabilities: "[I compare] Whether they use words like 'empower' or 'support' to see how vaguely they reference persons with disabilities, if at all. It sounds a bit boring, but it's really interesting because those kinds of legislation shape what cities, states, and countries do for planned access," says Freudenberg.

Finally, he documented the information barriers Washingtonians must confront—namely the absence of any formal list of accessibility-focused recreation opportunities. Freudenberg became keenly aware that "right now, they don't make it easy for a person with disabilities to even find these opportunities. During my research, I often had to look up accessibility options through third-party private websites. Which are nice, but DC really could do more to make that information public."
Not an Accommodation, But a Human Right
Freudenberg's capstone course on Inclusive Sustainable Development, taught by Professor Derrick Cogburn, explored the background, strategies, and mechanisms the United Nations General Assembly adopted for their ambitious 2030 Agenda for Sustainable Development.
To grow their understanding, the class spent significant time learning about the pedagogy of "person-first language" that focuses on referring to human beings before the disability discussed—a core value of the document that became the international human rights and international development treaty known as the Convention on the Rights of Persons with Disabilities (CRPD).

Article 30 of the United Nations' CRPD stresses that accessible recreation is not an accommodation, but a human right. Professor Cogburn considers that framing essential for countries, cities, and communities to make their recreation, cultural, and leisure spaces more accessible.

Cogburn explains: "The CRPD represented a shift away from what's called the medical model to the social justice and rights-based model. The Nobel Prize-winning economist Amartya Sen was one of the core theorists who helped us think about growth beyond gross domestic product (GDP), and he proposed looking more broadly at social inclusion measures to say, 'A really developed country is not just a country that has a high GDP, but one that also facilitates freedom for its citizens.' The social justice model involves taking a closer look at whether citizens have the freedom to choose where they live, work, and play, and whether they are able to take part in the political process."

The primary texts Professor Cogburn uses to teach the capstone class are classified as human rights treaties and international development strategies intended to aid the development of all peoples. When we take "universal design" approaches, they increase accessibility not only for persons with disabilities, but for everyone. That's an important distinction for Cogburn, who lets his students know at the beginning of the semester that the capstone isn't just about sustainable development: "There are other courses where students can pursue those interests. This class is about inclusive sustainable development, and, for me, it's in line with the University's Inclusive Excellence Campaign."

Professor Cogburn continues, "I heard a wonderful quote from a disability advocate who said, 'You can't have a-la-carte inclusion.' Inclusion means you've got to include persons with disabilities as well as persons of color, LGBTQ, first-generation, and other elements of inclusion. You know, one of the tenets of the New Urban Agenda and of the 2030 Sustainable Development Goals is inclusive access to cities. [Freudenberg's] capstone was so well developed in conceptualizing and documenting the barriers to accessible recreation in DC that it clearly demonstrated the need for people to access their city. That is a right they have, and the freedom to enjoy the city, its parks, and public places, should be part of everyone's life, including persons with disabilities."