International
Masculinity and Men's Health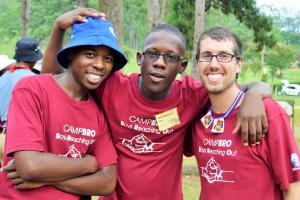 What does masculinity have to do with men's health? According to graduate Cody Ragonese (SIS BA '14), quite a lot. At different ages and income levels all around the world, behaviors perceived as masculine have an impact on the health of boys and men—and they're rarely positive.
Ragonese originally came to American University specifically for the School of International Service's (SIS) focus in international development. He minored in public health with a regional focus in African studies. While at SIS, his varied interests led him to take on an internship in Nairobi; after graduating, he served as a Peace Corps volunteer in Swaziland, where he designed and launched the Boys Reaching Out Program (BRO), an organization that focuses on male mentorship and men's health. Peace Corps Volunteers, alongside Swazi counterparts, engage young men and boys in gender equality initiatives and about the many ways masculine behavior affect men's health outcomes.
Over the past year, Cody consulted with Promundo, a DC-area gender justice NGO, and authored their Masculine Norms and Men's Health: Making the Connections report. The recently released report emphasizes how "men's poor health is most often driven by their efforts to live up or adhere to restrictive societal norms related to manhood." In November 2018, Ragonese presented the findings of the report in Geneva before the World Health Organization.
The report identified seven common masculine norms that lead to risky behavior: acting tough and taking risks; self-sufficiency and emotional control; attractiveness; rigid masculine gender roles; superiority amongst men; hyper-sexuality; and power, aggression, and control.
These categories help stakeholders understand the motivations behind risky behaviors so that BRO, Promundo, and other gender-equality organizations and agencies can work to address the social norms negatively influencing men's health.
Ragonese explains: "These harmful masculine norms are a social phenomenon that lead to injury and illness. One example of this is the relationship between masculinities and alcohol consumption, whereby masculine norms, like competition, hypersexuality, and risk taking, perpetuate dangerous levels of alcohol use. And this all matters greatly because alcohol consumption is associated with 10 of the top 12 causes of male death globally".
Take, for example, the attractiveness category, which relates to men's physical appearance and body image and can negatively influence men's health through the pressures to use muscle-enhancing steroids or get calf implants. Or the superiority among men category, which reflects "the socially constructed hierarchy of male identity and a belief that men must experience feelings of superiority" through the marginalization of fellow men who don't drink, abstain from sex, are vegetarian, or behave in other ways perceived as "less masculine."
The self-sufficiency and emotional control category covers men's relationships with their feelings, including the common societal expectation that men should "man up" and refrain from seeking help for their physical and emotional issues. Rigid, masculine gender roles reflect the notion that certain activities are either for men or women, including the belief that men should be the family breadwinner while women raise the children at home.
These learned norms and behaviors impact men's health and can overlap with other behaviors to create a storm of risks that eventually become illnesses. Ragonese's 124-page report reviewed men's health on a global scale, but it can be broken into four main parts:
1. The Rationale Behind the Report
The first step to solving a problem is acknowledging it. And no matter how people identify or where they live, men's health impacts everyone. However, the topic of men's health (and the discussion of allocating funding towards men's health studies and services) is widely debated, so Ragonese demonstrated the need by framing men's health as a community-wide financial and social issue.
2. Behaviors and Burdens
Ragonese analyzed the 2016 Global Burden of Disease (GDB) data set (the injuries and illnesses that burden men around the world the most, including heart health, cancer, and respiratory infections) and looked for links between men's risky behaviors and disease burdens. By looking into the disease burdens, Ragonese discovered associated risky behaviors that lead to those illnesses (like smoking, poor diet, unsafe sex, etc.)
3. Social Phenomenon, Real Health Implications
The report's findings were stark: men are over-represented in nearly every major category of disease burdens and, on average, die five and a half years earlier than women because of the social and cultural influences that shape their behaviors.
"The way we socialize our boys and men, the way we teach them to act in a specific way according to their gender, affects our physical and mental health." Ragonese continues, "Some of the most dangerous behaviors aren't things we necessarily equate with healthiness like smoking and poor diet. Limited health seeking behavior is a huge issue among men. Many of these illnesses could be prevented if men were more willing to go to the doctor or seek mental health services."
According to Ragonese, moving away from a sterile medical model of men's healthcare will be necessary if we are to effect lasting change, and he has observed innovative organizations working to address these limited health seeking behaviors at the community level: "Organizations are finding creative ways to address these behaviors. For example, by working with barbers who will talk about men's health while they're in the chair."
4. Stakeholder Roles and Responsibilities
The report included recommendations for health organizations, academics, corporations, individual donors, and local governments to address the dangers and burdens associated with risky masculine behavior. Ragonese says progress is being made, but that programming around masculinity and men's health is severely lacking overall, "The President's Emergency Plan for AIDS Relief (PEPFAR) and USAID have started to work towards these issues within their HIV reduction work" but the issue is bigger than any one disease burden or organization.
Distinguishing between individual identity and the cultural, social biases of what it means to be a man can be an impossible strain of introspection for some—but Ragonese says it is necessary for the health and well-being of men around the world.
Ultimately, he's hopeful that reports like his will help men understand their part to play in keeping themselves and their community healthy: "There are links across all masculine norms and risky behaviors. It's very eye-opening to read through each section and see how you are part of the picture. It's important to ask yourself, as a member of society, how do I perpetuate or police these things? Because passivity is an action in itself."