Student Life
Community of Scholars Pre-college Program Pays Dividends for SIS Undergrads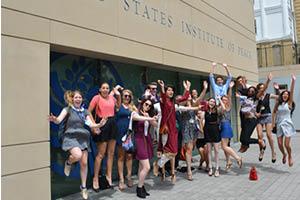 There's a pang of unfamiliarity during most students' freshman years. The new structure of classes, being surrounded by new faces and a new environment—it can be overwhelming. However, SIS freshmen Aryn Adkins and Gabriella Sembenini-Tato were more at ease when they started their first semesters at AU. That's because they took part in the Community of Scholars program during the summer between their junior and senior years of high school.
"Community of Scholars gives you a good idea of what the AU college experience will be like," says Sembenini-Tato. "I felt comfortable starting at SIS because of it."
What Is Community of Scholars?
The program is a rigorous and rewarding summer experience through which students heading into their junior or senior years of high school can earn college credit. It gives those who are university-bound the opportunity to take part in a slice of college life.
Applicants who are accepted into Community of Scholars participate in an online portion for one week and an in-person portion at AU for two weeks. Students engage in lectures, discussions, and activities meant to broaden their understanding of international relations.
"During those two weeks, Professor David Banks taught me concepts that I continue to carry through my SIS journey," says Adkins. "I'm grateful for what he taught us, and I'm planning to take classes with him again."
Along with learning concepts in the classroom, Community of Scholars students take trips unique to DC, including visiting government agencies and non-profit organizations to see policymaking in action.
"We got to go to so many cool places; it was fantastic being able to access areas like the World Bank, the US Institute of Peace, and the Department of State. We got to see different aspects of international relations through these visits," says Sembenini-Tato.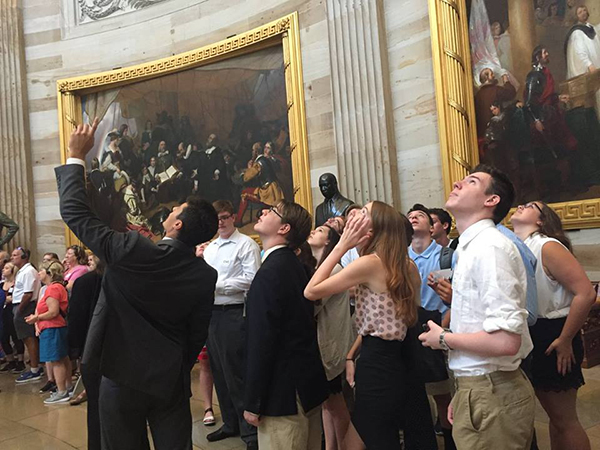 An Opportunity for Friendship
Not only does the program introduce students to the undergraduate experience, but it also connects them with a network of people from different parts of the US and the world.
"I'm from California, and a lot of people in the program came from all over the country," says Sembenini-Tato. "We also had the Summer Sisters Exchange Program happening at the same time, and some of the women in that group were involved in my program. So now, I know a few people who live in Pakistan."
Sembenini-Tato and Adkins still keep in touch with students who were a part of their Community of Scholars programs, and are glad that they could make connections during their two weeks at AU.
"Community of Scholars is a great way to come to AU with a built-in support system," says Adkins. "I was the only person from my high school to attend college in DC, and I was very fortunate to start freshman year with my friends from the program. We became so close over those two weeks, and we were really excited to attend the same school together."
Because of the program, both Sembenini-Tato and Adkins are confident in their choices to study at SIS. For Adkins, Community of Scholars prepared her to pursue a BA in International Studies and allowed her to evaluate what she wanted to do with her degree. Sembenini-Tato's interest in international affairs was heightened after the program: "Being able to experience campus-life, academics, and the city—it was awesome. I knew international studies was something I was interested in, and having the opportunity to take a class at SIS solidified my interested. I discovered that this was something I wanted to pursue and that SIS was where I wanted to pursue it."