Achievements
AU Teams Earn Spots in the Cyber 9/12 Semifinals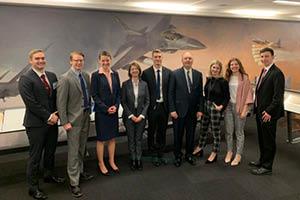 Andre Jones is an SIS graduate student in the US Foreign Policy and National Security program who participated in this year's Cyber 9/12 Challenge as a member of AU's CyberEagles team.
Cyber disaster strikes! That is what student teams from around the United States prepared for during the Cyber 9/12 Challenge, hosted each year by the Atlantic Council's Cyber Statecraft Initiative. The Atlantic Council builds the Cyber 9/12 Challenge around a crucial question in today's computer-influenced world. This year, the question was: "How should countries react to a global cyber catastrophe?"
Teams of undergraduate and graduate students gather together to demonstrate their abilities to analyze a simulated cyberattack scenario, provide policy analysis, and recommend responses to the scenario. This year's gathering included two teams from American University: the CyberEagles and the Cybernauts. They competed head to head at Lockheed Martin's Global Vision Center in Crystal City by presenting policy options to cyber experts that ranged from the Pentagon to the Treasury Department. 
There are three rounds in the competition. After the first day of the tournament, teams gathered at the Baker McKenzie law firm overlooking the White House in the evening, where they eagerly waited for the results of round 1. Both AU teams advanced onto the semifinals and received an updated threat scenario. The teams worked tirelessly into the late hours of the night on what options they would propose the next morning. This event reflected the tough realities that exist for policymakers in actual national security situations.
Out of the 46 teams that competed, both AU teams earned spots in the semifinals, with the CyberEagles winning fourth place and the Cybernaughts winning seventh place.
Not only does the competition serve as a way to experience presenting policy options, but it also gives participants a chance to get feedback from experts in the cyber security space and to network:
"The challenge allowed me to utilize the skills I have been learning in classes in a professional setting, and the networking opportunities gave me the ability to talk to professionals about the cyber industry field," says Cybernaut Hannah Andrews.
"The competition was fun, interactive, trying, and difficult at times," says Cybernaut Katelyn Lundy. "The scenario was a deep dive into what the cyber intelligence world could be like, and my team learned so much from the experience. I'm glad to have had the chance to represent AU, and I can't wait for how next year's team turns out."
For myself, Cyber 9/12 was an incredible event to be a part of. The competition was encouraging because it allowed me to picture myself in the cyber industry in the future, and it made me excited to start solving the challenges presented in this dynamic and fast-paced field of work.