Achievements
SIS Student Presents Her Findings on French Identity Politics at NCUR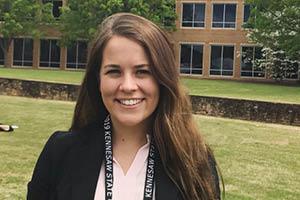 SIS student Rachel Kronk was living abroad in France when the November 2015 Paris attacks happened—a series of coordinated attacks that occurred throughout the city. Though her host family lived in Caen, Normandy, far from the chaos in Paris, Kronk noticed a change take place amongst the residents of Caen after the attacks. She believed there were shifts in attitudes toward Muslims who lived in the city.   
"I don't think anyone would say anything directly. Just like many people in the United States, they were hesitant to verbalize prejudice," says Kronk. "But if you were on a train and someone in a full hijab got on, I felt I could see everyone tense up."
During her junior year at AU, Kronk was awarded a Boren Scholarship, through which she lived with a Muslim family and learned about Muslim traditions in Senegal. The accumulation of her experiences abroad sparked Kronk's interest in a particular focus of research: how public discourse in France impacts the ability of Muslims to be accepted as French.
"France gave me the initial love of the language, and Senegal gave me the love of studying Muslim culture," says Kronk. "France has this very deep, historical nationalism, which has become, in my opinion, a pronounced secularism, and there's a culture in France that makes it hard for anyone considered 'other' to integrate fully, so I wanted to look at the influence of political discussions on this issue."
DIGGING THROUGH PUBLIC DISCOURSE
In order to conduct her research, Kronk analyzed the political discussions found in French archives, looking into what politicians have said during, what she categorizes as, nationalistic events. These included France's 2005 ban on conspicuous religious symbols in schools and the 2010 face-covering ban. She especially focused on the discourse of politician and former French president Nicolas Sarkozy, who she says is publicly known for being secularist.
Through her research, however, she found that Sarkozy had not always had such a strong stance against religious culture:
"When he first came to the public domain, there were a few instances in which he said the French government should not pass extremely secularist legislation because it would make Muslim people in France seem like an 'other.' He started passing secularist laws once he was voted in by his party, which, to me, questions party affiliation. When the public wants to hear certain stances from a party, how does that influence what politicians do?"
Kronk believes the way Muslim identity is spoken about in the public square may negatively impact Muslim communities—not only in France, but throughout Europe.
"Hate crimes against the Muslim community have been on the rise not only in France, but, I believe, in all of Europe, too," says Kronk. "So there's a lot to consider in how discourse, especially public discourse, affects these communities."
AN OPPORTUNITY TO PRESENT AND NETWORK
After a year of digging through and analyzing archives, Kronk was given the opportunity to present her research, entitled "Politics of National Identity: Muslim Integration Discourse in France," at this year's National Conference on Undergraduate Research (NCUR). The experience was like no other for Kronk: "[Leading up to the conference,] I was stressed, but excited. I've presented before, but never in front of such a large audience."
Kronk was part of a panel with other undergraduate students studying similar topics. She presented her research, answered questions, and met other academics who shared her scholastic interests.
As a next step, Kronk has revised her research in the hopes that it will be published in an academic journal, specifically NCUR's journal and American University's own Clocks and Clouds.
"The conference was a great introduction to research," says Kronk. "I hope to continue along this academic path, especially in doing archival research."