Achievements
Summer Plans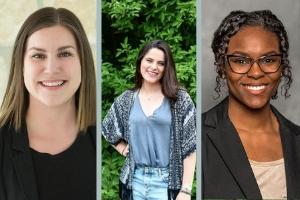 While summer is often associated with vacations and cookouts, many of our SIS students see it as a time to embark on experiences to further their careers. With summer just around the corner, we chatted with a few of our students to learn about their plans.
Molly McSweyn, SIS/MA '20
Over the next few months, Intercultural and International Communication graduate student Molly McSweyn will intern at USAID as a Rosenthal Fellow, working on the agency's Bureau for Legislative and Public Affairs' Development Outreach and Communications team. With a background in communications and several corporate and nonprofit internships behind her belt, McSweyn looks forward to her first job within the federal government.
"I'm really excited to step into government work," says McSweyn. "I'm interested in international development and communications, and I've been wanting to gain government experience. This internship at USAID is a great cumulation of all my interests."
Every year, a group of graduate students are awarded Rosenthal Fellowships, which give them opportunities to gain experiences in Congress, the US Department of State, and other agencies in the federal government. They are chosen, according to the fellowship's website, "for their outstanding scholarly achievements, for their character, and for their commitment to the study of international affairs."
When McSweyn learned she had received the fellowship, she was ecstatic: "I was overwhelmed with joy and excited. Going through the application process was a lot of work, both for myself and the wonderful SIS committee that helped me apply. The team that helps fellowship candidates like me is so supportive, and I don't know if I would have been as prepared for the Rosenthal interviews without them."
Along with the internship, McSweyn is looking forward to the Rosenthal Fellowship's future networking opportunities: "I'm looking forward to the events that are going to be held for the fellows—ones where I'll get to meet people from fields that I'm interested in. It's also fantastic that I'm going to be connected with past and future Rosenthal fellows and that everyone from my Rosenthal class—we're all going to be entering into our professional lives together, forming a network that'll be great for our careers."   
Kristian Gore, SIS/MA '20
Kristian Gore, a student in the Global Governance, Politics, and Security master's program, also has been selected as a Rosenthal Fellow. She describes her summer fellowship at the Department of Defense (DOD) as "the Holy Grail."
"It's going to set me on a trajectory of being able to work in defense policy in the future," says Gore. "And the internship is going to be at the Pentagon, which, for someone interested in defense policy, is somewhere I've dreamed of working."
She will work in Special Operations and Low Intensity Conflict/Stability and Humanitarian Affairs (SOLIC/SHA), which was her top choice for a focus within the Office of the Under Secretary of Defense Policy.
"Out of all of the departments at the DOD, I wanted to work in an area that was broad and could span across countries," says Gore. "I wanted to get the opportunity to see how US defense policy works first-hand and how it can be formed and situated across different regions of the world."
According to Gore, there are not many avenues one can take to become an intern at the DOD, but the Rosenthal Fellowship is one of them: "This opportunity is going to be a great one, and I feel honored to have been selected for it."
Kaitlin Caffrey, SIS/BA '21
This summer, Kaitlin Caffrey will interview immigrants across the DMV area as a part of her research on undocumented immigrant communities and the ways they navigate conditions resulting from the conflation of anti-immigrant discourse and local MS-13 growth. She was selected by the AU Office of Undergraduate Education to take part in the 2019 AU Summer Scholars and Artists Program, through which she will be allotted $4,000 to spend on expenses to support her research.
Caffrey wanted to conduct this research locally because of the many Central American diaspora communities that have settled in the DMV area. She has already spoken with people from some of these communities through her volunteer work at The Family Place, a nonprofit in Columbia Heights that empowers low-income families.
"I work on the case management team at The Family Place. Anyone can come in and ask me questions," says Caffrey. "For example, I was speaking with a Guatemalan immigrant who needed to change her healthcare, so I made phone calls, translating between Spanish and English, to help her do so."
With the Summer Scholars and Artists Program, Caffrey will have the opportunity to work on the project with SIS professor Anthony Fontes, who helped her formulate the topic.
"I was in Professor Fontes's research class, and he's become a mentor of mine," says Caffrey. "It's going to be fantastic working together as a team on this research."
Caffrey is excited to spend time fully focusing on her research over the summer, accessing, first-hand, different viewpoints on immigration. She plans to speak to documented and undocumented immigrants, law enforcement officers, and various experts: "The interviews are going to give me so many different points of view. They'll give me the opportunity to listen to a wide range of voices on the situation. That's really what this project's about."
After conducting her research, Caffrey will present her findings at the SIS Undergraduate Research Symposium.