Achievements
How Graphic Novels Can Inform Military Readiness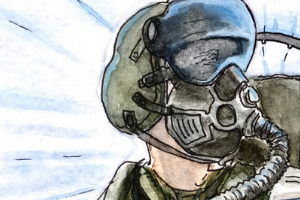 As a communications officer and information operations officer in the US Marine Corps, Major Adam Yang had been thinking about the future of warfare and innovation in the military long before he came to SIS as a PhD student last year.
His most recent project, a graphic novel titled Destination Unknown, was published by Marine Corps University Press (MCU Press) in June. Destination Unknown is the first graphic novel written and illustrated solely by Marines—or as Yang says, "created by the warfighter for the warfighter."
Conflict and the Graphic Novel
Yang started developing the idea for Destination Unknown last fall. He took a social theory class with SIS professor Susan Shepler and attended a Naval Academy lecture that inspired him to think about how fiction can be used to better understand conflict and an adversary. A visit to a class taught by SIS professor Joseph Torigian presented him with a new way to communicate military history and the future of warfare—through the graphic novel.
By assigning scholarly political science texts paired with graphic novels, Professor Torigian's "Conflict and the Graphic Novel" course conveyed fundamental political theories on topics like nuclear weapons, ethnic conflict, and terrorism, while also reminding students what it's like to experience these types of conflicts on the ground. Torigian taught this seminar not only to introduce first-year SIS students to security studies and political violence, but also to show how they can share their ideas in different ways.
"You can communicate important ideas in ways other than writing articles or writing books or giving talks," says Torigian. "Graphic novels can remind people that the things they're studying have a very human element to them, that they're not only theoretical."
Yang and a fellow Marine attended the final presentations for Torigian's class in late November, during which students were tasked with producing an idea for a graphic novel on a political science topic or policy issue: "I was looking at the students, and they were really engaged. It wasn't really the story itself, but the visual element that made it really interesting to them. And I was like, 'You know what? I think we should do something similar.'"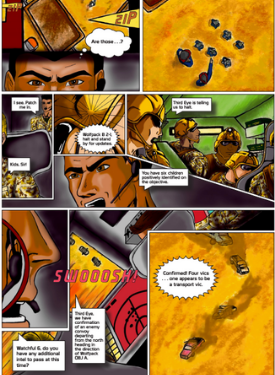 Illustration by SSgt. William Bradley ©MCU Press
The Making of Destination Unknown
The US military has produced graphic novels in the past, but Yang explained that those works lacked an educational component and were typically professionally constructed. He believed it was crucial that service members create Destination Unknown and present information in a homegrown way.
"We could have hired someone to illustrate it and write it, but there is a certain appeal when it's done by the warfighter for the warfighter," Yang says. "It needs to be done by the service member; otherwise, it lacks the service member's perspective."
Destination Unknown began coming together in late December, when Yang got the go-ahead from MCU Press and was named managing editor of the project. He recruited a team of authors, artists, and editors from the Marines, as well as two civilians who served as writing and illustration mentors.
Using writing prompts Yang had drafted on various national security topics, each author and artist was paired up to tell a specific story on scenarios involving Marine-manned satellites, artificial intelligence, laser communication, and Marine operations and recruitment.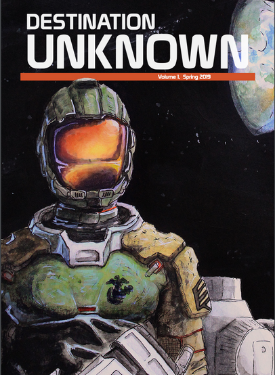 Illustration by Capt. C.J. Baumann ©MCU Press
A Personal Touch to Military Education
Destination Unknown is not like a typical graphic novel you would find in a comic book store. Instead, it was made explicitly to contribute to the Marine Corps' educational system. Each story in the novel is fictitious but concludes with discussion questions to prompt Marines to reflect on issues they may face in modern warfighting.
While professional military education (PME) has typically consisted of "some combination of military history, security studies, international relations, leadership, strategy, tactics, drill, and a variety of wargames," Destination Unknown provides a more personal, accessible, and engaging educational experience than the traditional white paper or textbook.
Major Yang and the rest of his team are in the process of firmly establishing Destination Unknown in the PME curriculum and are currently shipping out the novel to different units throughout the Marine Corps. They are already looking forward to the next issue, which will offer new perspectives and topics for discussion in the classroom through contributions from members of other branches and foreign militaries.
"The concept isn't really that novel in itself, but the fact that it's homegrown makes people want to read it more," says Yang. "They look at it and think, 'Staff Sergeant Bradley drew and wrote this, a Corporal I know drew this, a Major that I knew wrote this,' and because of that personal factor, you're wondering what they have to say."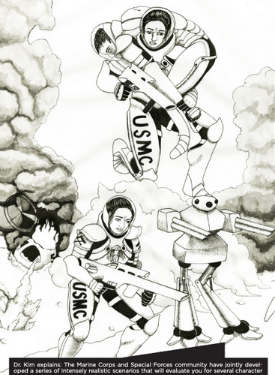 Illustration by Sgt. Shannon Winslow ©MCU Press