Achievements
How We Spent Our Summer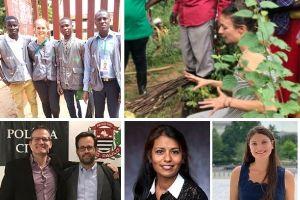 From global internships to research and fieldwork abroad, many SIS students and faculty take part in incredible experiences during the summer. We caught up with professors, students, and a recent alumna to learn how they spent their time during the summer months.
Lauren Estrada, SIS/BA '20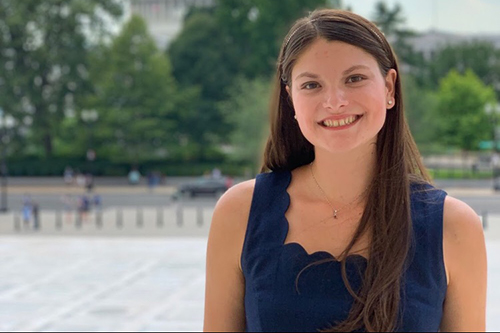 This summer, Lauren Estrada gained invaluable professional development through a program with an acceptance rate of less than three percent: the Charles B. Rangel International Affairs Summer Enrichment Program.
During the six-week program at Howard University, undergraduate students from across the United States are introduced to foreign affairs professionals, visit institutions involved in international affairs, and take classes intended to enhance their knowledge and skills in US foreign policy and economics.
Estrada also took a writing seminar, which gave her a better understanding of the types of writing that would be useful for a government position. "We did everything from rewriting our resumes to learning how to write a Facebook post as though we were representing an embassy," says Estrada. "The seminar has helped me transition into professional writing."
The program helped narrow down Estrada's interests, as she now feels certain that she wants to work toward a career in intelligence. She was first inspired by a talk given by a former Rangel Scholar who works at the NSA, and a visit to the CIA solidified Estrada's zeal for intelligence.
Thanks to the program, Estrada is now part of a large network of Rangel Scholars that will serve as an advantageous resource in her future job search: "It's been a rewarding experience because I've been able to meet with all kinds of professionals who work in both government and non-government organizations. I feel I can reach out to them, especially when I start applying for jobs."
Sidney Larsen, SIS/MA '20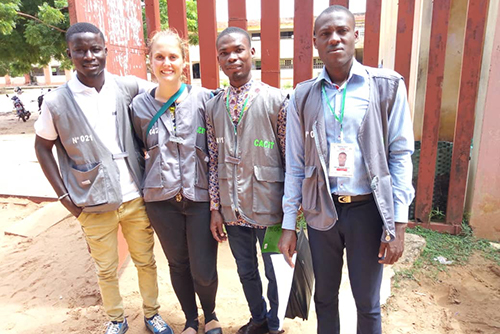 Cold emailing an organization doesn't always yield results, but that's exactly how Sidney Larsen landed her summer internship at the Collective of Associations Against Impunity in Togo (CACIT).
Larsen, a student in the International Peace and Conflict Resolution program, was planning on traveling to Togo to conduct research on the country's public opinion ahead of its 2020 presidential election. She found out about CACIT while reading news articles on the country's politics.
"CACIT's name kept appearing in the articles I was reading," says Larsen. "Once I learned more about their human rights mission, I reached out asking them if they could use an intern—they replied back asking when I could start."
CACIT is a network of associations and NGOs involved in the defense and promotion of human rights, and it serves as a leading organization in combatting torture and impunity in Togo. During her internship, Larsen helped gather necessary voting materials and monitored voting spaces during the country's first municipal elections in over 30 years.
Larsen also interviewed Togo's citizens to gauge the average opinion on the upcoming presidential election. The country's current president, Faure Gnassingbé, has been in power since 2005, and his father ran the country for 38 years before him. Since 2017, people have protested the Gnassingbé family's rule over the country.
"I have noticed that by conducting research and working at CACIT, I've been able to connect what I'm learning from interviewing Togo's people with what I'm learning while I'm out in the field or writing a report for my internship," says Larsen. "I think the research aspect of this trip has helped inform my fieldwork and vice versa."
Tazreena Sajjad, Faculty
Professor Tazreena Sajjad, who received a Dean's Summer Research Award, spent her summer studying why Bangladesh has strategically opened its borders to Rohingya refugees despite intensifying anti-immigrant and anti-refugee measures around the world.
In addition to the new global norm of framing human migration as a security issue rather than a humanitarian one, Sajjad notes that Bangladesh is not a signatory to the 1951 Refugee Convention and struggles with "a host of structural challenges such as political instability, corruption, and severe overpopulation" that would typically deter a country from taking in such a large flow of refugees.
"Under all these conditions, it would have seemed to be a 'natural' reaction for Bangladesh to state that the Rohingya is not its responsibility, that it is concerned about security and sustainability issues, and to refuse to take in such a large number of people," says Sajjad. "It is also not a stranger to the realities of border militarization. India has sealed off practically all three sides of its border with Bangladesh in the name of security, which also prevents the entry of irregular Bangladeshi migrants across the border. But Bangladesh went against the trend and made a political decision to actively open its border."
With over 1.1 million Rohingyas currently in Bangladesh, Sajjad traveled to Dhaka and Cox's Bazaar to conduct interviews with government officials, politicians, and other actors on the ground to better understand Bangladesh's current approach to refugee reception.
Sajjad says this research is preliminary fieldwork, and her findings from Bangladesh may lead to a broader project about refugee acceptance and reception in the current global climate: "As with any fieldwork, patience and methodical follow-up will be key to defining what the next steps could be."
Matthew Taylor, Faculty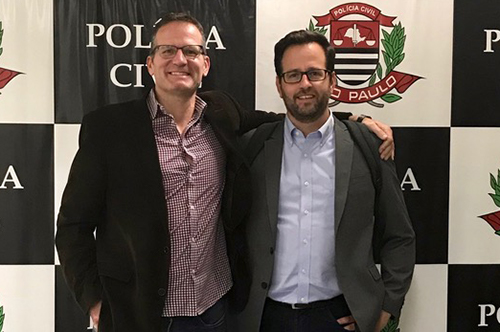 Finishing up his sabbatical in Brazil, Professor Matthew Taylor kept busy by working on three different research projects this summer.
His first book-length manuscript explores the political economy of democratic Brazil, covering politics, economics, law, and a generation of events in Latin America's largest country. Taylor says this is a "wide-ranging project," but that he is most interested in understanding why Brazil has been so hyperactive about reform over the past three decades but has made so few developmental gains.
For Taylor's second project, he analyzes Brazil's anti-corruption efforts by using a historical lens to investigate how the country's institutions have evolved over the years. After the Lava Jato scandal, one of the largest cases of corruption in Latin American history, this book-length project explores prosecutorial overreach, the limits of the rule of law, and whether Brazil's government is actually moving toward lower levels of corruption.
Together with a team of journalists at InSight Crime, Taylor's third project examines transnational organized crime in the Southern Hemisphere. "It has been a busy few years for criminal gangs in this region," says Taylor. "We have been trying to understand who the key players are in the underworld between Brazil, Argentina, Paraguay, and Bolivia."
Even though this project required deductive work to understand the motivations of criminals who "prefer to be left unobserved," Taylor says that "it was good to be on the ground in the region so as to get a better sense of these dynamics from up close."
Kaitlyn Zeno, SIS/MA '19
When Kaitlyn Zeno presented her practicum project, a reforestation program and income generator for rural communities along the Nile River, she felt slightly uneasy. She accomplished a great deal through the project, but had not yet garnered full approval by Uganda's National Forestry Authority (NFA) to begin planting. Two weeks after her presentation in mid-April, she flew back to Jinja, Uganda, to see the project through to completion.
The program is called Trees and Bees, and it was started by Bubugo Conservation Trust in response to Uganda's riverbank degradation, which has resulted in the disappearance of wildlife and considerable deforestation. Zeno worked in Jinja before starting the Development Management program at SIS and was familiar with the town's community.
"Many people in rural Uganda rely on the land for their livelihood, so the environment is crucial. Coming back, I wanted to do something that was more focused on the environment and the ways that people interact with it," says Zeno.
Trees and Bees works with local farmers to restore the riverbank's vegetation and install beehives to provide them with a source of income. When Zeno first started working on the program, she conducted monitoring and evaluation, set up logistical frameworks and baseline surveys, and took on recordkeeping and accounting responsibilities. Later, she focused on community and stakeholder engagement and lobbied for the NFA to approve the program.
"When I left, it was a little bit discouraging because I hadn't gotten the full approval to start planting," says Zeno. "I got so close, but three months just isn't enough time to implement a project, so I came back as a program manager and hit the ground running."
When Trees and Bees was finally approved, she joined the riverbank community in planting over 300 trees and installing 44 hives. Zeno is now working on expanding Trees and Bees to reach even more communities living along the Nile River.