Student Life
SIS Student Leads Kennedy Political Union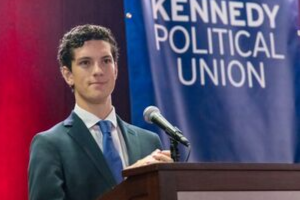 Kevin Norton (SIS/BA '21) currently serves as director of the Kennedy Political Union (KPU) here at American University, managing a staff of 20 and an annual operating budget of 190,000 dollars. KPU, founded in 1968, is a non-partisan, student-run speakers bureau that hosts high-profile events on campus featuring speakers that represent views across the political spectrum.
We spoke to Norton about why he chose to attend AU and pursue a degree from the School of International Service (SIS), his involvement with KPU, and his plans for pursuing a career in international affairs after graduation.
Choosing the School of International Service
Originally from Fort Myers, Florida, Norton first learned about SIS through a friend and visited campus his junior year of high school. He ultimately decided to attend AU because of the school's top-10 ranking among undergraduate international relations programs, its location in Washington, DC, and the close-knit feel of AU's campus and community.
Norton first became involved with KPU as a first-year fellow after attending one of the organization's fall events. He also launched AU's chapter of the Alexander Hamilton Society as a sophomore, an organization that Norton describes as a "principles-based foreign, economic, and national security policy organization."
As the founding president of AU's Alexander Hamilton Society, Norton organized and hosted events featuring SIS professors, policymakers, and practitioners, which focused on foreign policy and American leadership abroad. His leadership experience with the Alexander Hamilton Society encouraged him to apply for KPU's director position this past summer.
Leading the Kennedy Political Union
In addition to his coursework, Norton focuses on his role at KPU and furthering its mission to "bring the most politically relevant and interesting speakers to campus to engage the AU community and to focus on important issues from all ends of the political spectrum."
Planning 15 to 20 events each academic year, Norton says the "best part" of the job is deciding which speakers to invite to campus. He hopes to bring more speakers who will engage the AU community in substantive and meaningful discussions on foreign policy and American leadership abroad.
Norton is working to identify leaders in international affairs that KPU can invite to speak on campus. Most recently, a KPU event cosponsored with SIS and the Sine Institute of Policy & Politics hosted former secretary of state and national security advisor Condoleezza Rice and former executive director of the 9/11 Commission Dr. Philip Zelikow.
Looking Forward
While Norton hasn't decided on which specific career path he will pursue after graduation, his experiences since coming to AU have opened up new professional interests and opportunities that he previously did not know existed.
Norton's event-planning and logistical experience led him to the Meridian International Center in DC, where he works with their development team on events and planning their annual Meridian Ball. He also interned on Capitol Hill with the vice chairman of the House Foreign Affairs Committee.
"I think I'm probably not unlike most SIS students in saying this, but I came to DC wanting to go into the Foreign Service at the State Department," says Norton. "But once I arrived here and started speaking to professors, I realized there's so much more I can do in international relations. They opened so many doors and let me see what else I can do with my degree."
For now, Norton is committed to honoring the student-led tradition of KPU, emphasizing that it is what sets the organization apart: "The opportunity to lead a large team and work with such a high budget at 20 years old—that's something that is really unique," says Norton. "There's really no other student-led organization in the country that's been around as long as KPU and has had the impact that we've had."