On Campus
Five Questions for Dotan Haim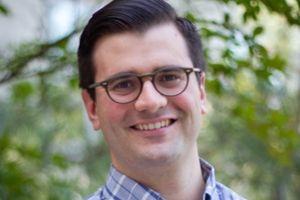 SIS is fortunate to have a large and accomplished faculty working at the forefront of their fields. Here's the latest in our getting-to-know-you series with new SIS faculty.
---
Q: What are your areas of expertise, and why are you interested in these topics?
My areas of expertise are conflict and insurgency, particularly in the Philippines. I went to the Philippines as a research assistant early in my graduate school career and fell in love with the country. This experience raised so many interesting questions for me, and I decided that is where I wanted to do my research.
Social network analysis is the methodology that I use. It's a method that derives statistics from connections between individuals. Most of the work that I do is on offline, personal networks. I became interested in data as not just individual rows in a spreadsheet, but as something that describes these larger systems of relationships between people.
Q: Where were you before coming to the School of International Service?
Before the School of International Service, I was a post-doctoral fellow for one year at Dartmouth College. Before that, I received my PhD from the University of California, San Diego.
Q: Which courses are you teaching or planning to teach at SIS?
In the spring, I'm going to teach a course on social network analysis—SIS 306. I'm also teaching a first-year seminar, entitled How Big States Lose Small Wars.
Q: What's a fact about yourself that students might find surprising?
Before starting grad school, I considered a career as a professional soccer referee.
Q: What book(s) are you currently reading?
I'm halfway through The Three-Body Problem, which is a science fiction book by Liu Cixin. I'm also reading Global Governance and Local Peace: Accountability and Performance in International Peacebuilding by my colleague Suzanne Campbell and James Scott's Seeing Like a State.