On Campus
Five Questions for Patricia Agupusi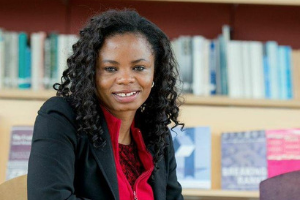 SIS is fortunate to have a large and accomplished faculty working at the forefront of their fields. Here's the latest in our getting-to-know-you series with new SIS faculty.
---
Q: What are your areas of expertise, and why are you interested in these topics?
My field is political economy, and I do a lot of comparative work. My areas of interest include state capacity, institutional arrangement, political violence, and development. I try to look at how states are working to harness whatever they have. We know that growth and development do not depend on natural resources; too much emphasis on that tends to distort how we understand development.
I am interested in how societies are managed by the states. Currently, I have two major projects. The first is a book project examining the political and economic structures of South Africa 25 years after the end of apartheid. Specific to bridging the socioeconomic gap in the country, this book includes chapters on land distribution, the African National Congress and state capture, unions, and civil society. My second project is on domestic terrorism and insurgencies; I have been conducting fieldwork in Nigeria for four years on Boko Haram.
I'm interested in development, but that is very broad. If you have an interest in Africa, it gets more complicated because you're not just talking about economics alone. You're also dealing with issues like conflict, state capacity, and governance.
Q: Where were you before coming to the School of International Service?
After completing my PhD at the University of East Anglia in the UK, I received a writing fellowship and then a postdoctoral fellowship at the Watson Institute for International and Public Affairs at Brown University. After my postdoc, I was a visiting faculty member at the Department of Africana Studies at Brown.
Q: Which courses are you teaching or planning to teach at SIS?
Currently, I'm teaching three courses: Micropolitics of Development, International Development, and Global Inequality and Development. Next semester, I'll also teach a first-year seminar on Imagining Africa. It's a new course, and I'm excited about that.
Q: What's a fact about yourself that students might find surprising?
I like to take photographs. I used to write poems and take a lot of photographs, but I think the US has kind of stifled my creativity. I still write poems. I love mountain hiking. I like to travel—if you're in this field, you have to like to travel. I like to see new places and learn about people and their histories—what made people where they are.
Q: What book(s) are you currently reading?
I just finished Don Quixote by Miguel de Cervantes, and it's the longest a book has taken me. And this is the one I'm reading for the second time: Assholes: A Theory by Aaron James. I'm also reading The Story of Philosophy by William Durant.