On Campus
Five Questions for Antoaneta Tileva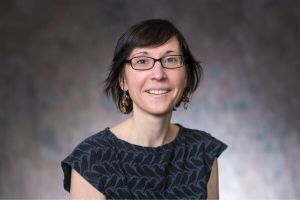 SIS is fortunate to have a large and accomplished faculty working at the forefront of their fields. Here's the latest in our getting-to-know-you series with new SIS faculty.
---
Q: What are your areas of expertise, and why are you interested in these topics?
I'm a cultural anthropologist by training. I focus on the nexus of urban studies, immigration, and gender issues. I'm really interested in public space and placemaking. My dissertation was about immigrant entrepreneurs and how they make spaces their own.
The overarching thread that connects all of my work is that I'm interested in informality and everyday life.
Q: Where were you before coming to the School of International Service?
In May, I finished my PhD from AU's Anthropology Department. I received my master's from SIS, and previously, I worked in SIS's Communications and Marketing office.
Q: Which courses are you teaching or planning to teach at SIS?
Currently, I'm teaching three undergraduate sections of SIS 205: Intercultural Communication and a one credit anthropology class titled Feminist Ethnography. Next semester, I'm teaching two undergraduate sections of SIS 205 and one graduate section of Intercultural Relations.
Q: What's a fact about yourself that students might find surprising?
I'm a vegan and majorly into cooking. I am also a huge pop culture nut. They might also be surprised that I have lived in DC for 28 years, making me a true local.
Q: What book(s) are you currently reading?
I'm reading one entitled Wordslut by Amanda Montell. It's a feminist linguist's take on feminist language. I'm also reading Psychiatry's Troubled Search for the Biology of Mental Illness by Anne Harrington. The third book I'm reading is When I Wear My Alligator Boots, which is a really great book by Shaylih Muehlmann. It's about the US-Mexico drug trade, but the author specifically focuses on the supporting network of people who are caught up in this very tragic war on drugs.