Achievements
SIS Graduate Students Test Cyber Policy Knowledge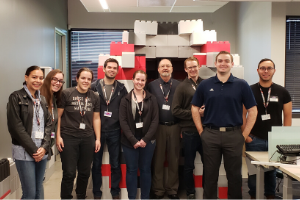 Haley Lucas is an SIS graduate student in the US Foreign Policy and National Security program who participated in this year's Cyber Policy Simulation at AvengerCon IV as a member of AU's Cybernauts team.
How would different United States government agencies react if the New York Stock Exchange went offline? This is the question eight SIS graduate students faced during "The Day After: A Cyber Policy Simulation" at AvengerCon IV, held October 17 and 18 at DreamPort, a tech and cyber collaboration facility in Columbia, MD.
AvengerCon is an invitation-only cyber workshop and simulation. Previously open only to government cyber operations personnel and select academic institutions, SIS qualified this year to send two of the eight student teams participating in the simulation.
The purpose of the simulation was to model the interaction among government agencies—each of which have different capabilities, authorities, missions, and information after a major cyber incident. Each team that competed in the cyber policy crisis simulation represented a different US government organization and had to formulate their responses based off that entity's responsibilities and capabilities. The AU Cybernauts acted as the Department of Homeland Security, and the AU CyberEagles represented the Secretary of Defense.
The scenario simulated an outage of the NY Stock Exchange followed by a major electric power outage, supposedly caused by a nation-state actor. New information was injected into the simulation roughly every five minutes, and sometimes the information was given only to one agency. Teams then had to decide with whom to share the information. "It represented challenges the government might have when trying to assist the private sector during a cyber attack," says AU Cybernaut Amanda Kingery.
In addition to the AU Cybernauts and CyberEagles, student teams from the Naval Academy also participated in the simulation. "We were able to work alongside Naval Academy students, which was extremely beneficial because successful professionals in the national security community must coordinate alongside military and civilian agencies," says AU Cybernaut Fabian Gonzalez Espinosa.
The two AU teams were joined by SIS professor Eric Novotny as faculty mentor. Novotny often coaches teams during the Atlantic Council's Cyber 9/12 Challenge and noticed a stark difference between the two competitions: "AvengerCon simulates the interaction of the various government agencies in the context of a major cyber incident. Cyber 9/12, on the other hand, presents each team with the same scenario, and the task is to develop independent policy options that are compared and scored against one another."
Professor Novotny will take two teams to the Cyber 9/12 Challenge in March 2020, but also "would be pleased and honored to lead another group of students at AvengerCon V" next year.