On Campus
SIS Launches Global CRS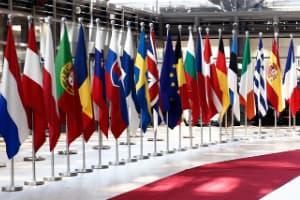 Leveraging its relationships with international partners, the School of International Service (SIS) has announced the creation of Global CRS: Europe, an addition to the Comparative and Regional Studies (CRS) program. Global CRS prepares master's students to confront global challenges with a top-ranked international affairs education and a regional immersive experience. Global CRS was designed in response to a sustained student interest in Europe at SIS and will introduce its first cohort of five students in fall 2020.
An Immersive Experience in European Affairs
Spending time in Brussels and Paris or Geneva—three important cities in international affairs and geopolitics—Global CRS students will have a regional immersive experience in addition to the benefits of studying at SIS in Washington, DC. Global CRS students will spend spring 2021 studying abroad at Sciences Po or the Graduate Institute Geneva followed by a three-month internship through AU Brussels.
"There are so many global issues right now that are based in Europe, linked to Europe, and involve Europe's relationship with the US and with other parts of the world," says Professor Gina Lambright, CRS program chair. "In the current moment, Europe is a great place for students."
Preparing Students for an International Career
A pre-departure regional preparation workshop and a mentoring program with a faculty mentor will prepare students for their time abroad and expand their professional networks. Additionally, Global CRS students will develop or deepen their foreign language skills by taking language courses during their first semesters at SIS and continuing while in-region in Paris or Geneva.
"Global CRS is unique in that it expands time in the region in a variety of ways—through coursework, language work, internship work—as well as by providing a 'grounding' back here at SIS in all of the other aspects of an international affairs education," explains Professor Eric Novotny, who serves as the program director for CRS.
More Than a Master's Degree
Global CRS students will receive an MA in International Affairs: Comparative and Regional Studies while spending significant time in-region through a study abroad program and an international internship. In addition to the regular merit-based aid, applicants to Global CRS are eligible to receive the Dean's Award for European Studies, which is designed to offset costs incurred by students while abroad.
"SIS is dedicated to designing professional graduate programs tailored to the career paths of the modern international affairs professional. Global CRS exemplifies this commitment," says Professor Mike Schroeder, assistant dean for graduate education. "I can't think of better graduate preparation for students aspiring to positions in European affairs and transatlantic relations."
SIS is now taking applications for the 2020-2021 academic year. Request more information about Global CRS.