Achievements
SIS's Model G20 Summit Continues to Grow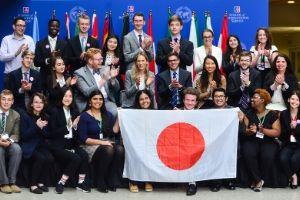 After a third year of dramatic growth, the Model G20 Summit at the School of International Service has become a well-established and respected tool for training future and current diplomats.
Building the Model G20 Summit
The Model G20 Summit was first launched in 2016 by SIS professor Andrew Spath and Ambassador Cecilia Nahon, who previously served as the Argentine ambassador to the United States and represented Argentina in G20 negotiations. Since its launch, the program has shown both proof of concept and high interest with three successful weekend-long simulations drawing participants from a variety of academic institutions, non-governmental organizations, and embassies.
In contrast with Model UN, the Model G20 Summit is more focused on accuracy and realism, thanks to the involvement and leadership of diplomats and experts. Rather than viewing negotiation as a zero-sum game, participants are empowered to be extremely collaborative and consensus-focused in formal and informal discussions. These unique attributes make the Model G20 Summit a valuable tool for building real skills for future diplomats.
The Japanese Presidency
After successfully simulating the German Summit in 2017 and the Argentine Summit in 2018, a talented team of over 30 graduate and undergraduate AU students came together to make the Japanese Summit an enormous success. We were grateful to work directly with experts and participate in private policy briefings from organizations like the Organization for Economic Co-operation and Development (OECD), which helped us draft our comprehensive delegate handbook.
Participants spent the weekend discussing pressing international issues, including global health, inequality, climate change, taxation, debt sustainability, and trade reform.
Besides debating and drafting multilateral political and economic solutions, delegates also had a chance to hear from a variety of exceptional speakers including American University president Sylvia Burwell, Japanese diplomat Shinichi Iida, former under secretary of the Treasury Nathan Sheets, G24 Director Marilou Uy, World Bank economist Svetlana Klimenko, and SIS assistant dean Michael Schroeder. Some delegates even attended a meeting at the European Union's mission to the United States.
The School of International Service served as a perfect venue for the event's largest weekend, with almost 200 participants from around the globe, including guests from a host of new universities. New to this year's simulation was the well-received addition of a new "Head of Delegation" negotiation track for experienced negotiators.
For the student staff of the Model G20 Summit, the event was an exceptional opportunity to learn about event planning and international diplomacy outside of the traditional classroom. We are extremely thankful to Ambassador Nahon and Professor Spath for their guidance and leadership, and we are happy that American University and the School of International Service have such a pioneering program with which we can get involved.
Onward To Saudi Arabia
Preparation is already underway for next year's simulation of the G20 Summit in Riyadh, Saudi Arabia. Looking forward, the Model G20 Summit leaders are excited to further refine the simulation, add new members to the robust and talented student staff, expand partnerships within and outside of the AU community, and help another cohort of talented participants build skills for future careers in diplomacy.