Alumni
SIS Alum Uses Business Strategies to Improve Healthcare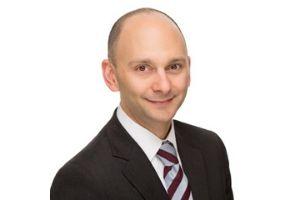 Service means a lot to alumnus Anthony Cino (BA/SIS '98). He currently serves as a senior vice president at Albright Stonebridge Group (ASG), a global strategic advisory firm co-chaired by the first woman US secretary of state, Madeleine Albright, and former US secretary of commerce and Kellogg CEO Carlos Gutierrez.
Cino leads ASG's health and life science practice, working with a variety of clients including pharmaceutical companies, diagnostic companies, medical device companies, healthcare delivery organizations, major global health foundations, and nonprofits. As a senior vice president, he focuses on how these clients can achieve their goals while positively impacting patients across the world.
With core interests in international relations, economics, and healthcare, Cino has held notable positions in both the government and private sector. We sat down with him to learn more about his impressive career and how his time at SIS helped set him down this path.
Discovering New Interests at SIS
Like many undergraduate students, Cino entered American University with a vague idea of what he wanted to do after graduation. He was originally interested in practicing medicine internationally, perhaps even working for Doctors Without Borders, but after taking a few courses, he discovered a zeal for studying China and economics.
"My time at American helped me define and further narrow my specific interests," says Cino. "I learned that there were many different opportunities in international affairs, and I quickly realized that the best area for me to focus on was China."
At the time, China was emerging as a critical market and geopolitical force, which is why he took courses to build a foundation in the Chinese language and learn as much as he could about Chinese history. He also developed a love for economics and graduated with a dual BA in international studies and economic theory: "Having that educational background in both China and economics really benefited me when I entered the job market."
A Career with Opportunities Abroad
Using his regional expertise in China, Cino took on roles through which he worked with Chinese markets and travelled to the country. He gained diplomatic experience as well—while working as a specialist at the International Trade Administration (ITA), Cino spent time serving at China's US embassy in Beijing.
There, he learned more about the role of embassies abroad and how diplomats help the US government understand what's happening in key countries, implement US foreign policy, and engage with foreign governments: "Though I learned about some of this at the ITA, it's an entirely different experience to spend time in an embassy….I enjoyed going there in a professional capacity, and the additional piece is that it's always an honor to represent your country abroad."
The Nexus of Health, Business, and Government
Within a few months of starting at the ITA China office, Cino not only used and further developed his areas of expertise, he also transitioned to covering a new policy issue. When Cino learned that there was an opening at the agency to take charge of China's healthcare portfolio, he seized the chance: "I recognized that healthcare is a major component of the US economy, and I have a natural interest in the issue, so I was able to use that opening to begin a career with an emphasis on health."
Cino believes health is a fundamental element of society and that the nexus of health, business, and government is complex and exciting. He explains that there are a variety of ways for one area to support another—for improved health to improve economies or for improved economies or well-structured governments to improve healthcare for citizens.
After his time with the ITA and a four-year period at the Pharmaceutical Research and Manufacturers of America (PhRMA), Cino moved into his current role at ASG, where he aims to make a difference at this intersection of areas. Over the last year, Cino helped to establish a new business within ASG that is now advising clients on the strategies for establishing and optimizing integrated healthcare delivery services, or, in other words, enhancing how health services are organized and managed so that people can affordably get care in the best possible way.
"I think it will be one of the most meaningful things I've been part of at ASG," says Cino. "It has the opportunity to directly impact so many patients' health—creating access to affordable, high quality healthcare."
With a wealth of challenges and opportunities to serve the global community, Cino looks forward to continuing his work in this unique space: "It's professionally challenging, interesting, and rewarding. There needs to be a sense of mission in what I do—a sense of meaningful focus. I want to make lives better through my work."