Research
Where the Red Cedar Grows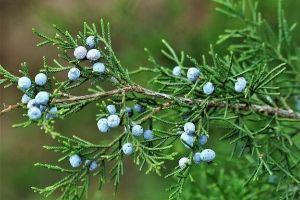 Driving along the countryside east of Oklahoma City, you're likely to spot the eastern red cedar tree. Evergreen and often teardrop-shaped, these trees cover vast stretches of Oklahoma farmland, and though they, like all trees, produce oxygen and reduce the concentration of greenhouse gases in the atmosphere by storing carbon, they are also a problem for farmers. 
The eastern red cedar is an invasive species that threatens biodiversity, propagates wildfires, consumes an overabundance of water, and serves as an obstacle to raising cattle. But beyond these issues, there is a disturbing, specific outcome that occurs as a result of the eastern red cedar taking root in Oklahoma: this species of tree disproportionally impacts Black farmers, a trend that is connected to a history of discrimination by the United States Department of Agriculture (USDA).
Researching a Legacy of Discrimination
Oklahoma's Black farmers have long recognized this issue. They are corroborated by a 2017 SIS practicum team's research article recently published in a Cambridge University Press journal, Renewable Agriculture and Food Systems.
For several years, the Rural Coalition, an alliance of rural organizations that advocates on behalf of limited resource and minority farmers and ranchers in the US, has partnered with Professor Garrett Graddy-Lovelace to teach a practicum, a one-semester course at SIS that provides graduate students with pre-professional experience.
In 2017, students on Graddy-Lovelace's practicum team worked with the Rural Coalition and the Oklahoma Black Historical Research Project, Inc. (OBHRPI)—one of the coalition's members that assists small scale and minority farmers in Oklahoma—to research the relationship between the legacy of USDA discrimination and the eastern red cedar's disproportionate impact on Black farmland in Oklahoma.
"Learning about this issue was eye-opening," says SIS alumnus and lead writer of the research article Colton Fagundes. "It was an application of the things we'd been learning about in our Global Environmental Policy program—the intersection between marginalization and conservation. This was a real case of it happening, and one that hadn't been documented before in academia."
Seeing the Issue First-Hand
Driving through Oklahoma, Willard Tillman, OBHRPI's executive director, introduced the students to farmers in his community, who shared how there are disparities in accessing resources to address eastern red cedar. Jennifer Mleczko, an SIS alumna and co-writer of the research article, found that traveling to the state, listening to the farmers, and seeing the spread of eastern red cedar in person were invaluable experiences.
"You can read about an issue, but your knowledge on it totally changes when you're on the ground and speaking with farmers," says Mleczko. "Mr. Tillman showed us who owned what land, and we clearly saw that red cedar was a problem on Black farmland but not on white farmland."
By coupling their work in Oklahoma with archival work, policy analysis, and data analysis, the practicum team found that the USDA was not addressing the issue of eastern red cedar equitably. For example, farmers can access the USDA's National Resource Conservation Service (NRCS) programs to offset costs in removing and managing eastern red cedar, but according to the team's data analysis, the NRCS disproportionately approves assistance in addressing natural resource concerns for white farmers over Black farmers. The team's research findings have advanced conversations with NRCS on specific ways to improve service to African American farmers.
Academia and Advocacy 
After the practicum and graduation, the alumni from the team continued to work with Tillman, Graddy-Lovelace, and the Rural Coalition's executive director Lorette Picciano to transform their research into a peer-reviewed and published article. The team spent two years condensing and editing their findings, all while working their day jobs.
"It was an intense peer review process, and it definitely meant a lot to the team," says Mleczko. "The article is really valuable for the Rural Coalition and the OBHRPI because now they can point to something that's peer-reviewed. The fact that it's published adds more strength to what we researched and wrote."
But the work doesn't stop at publication, and members of the team hope that the findings can be used to advocate for more equitable applications of farm bill programs and funds. The Rural Coalition plans to quote the article when giving testimonies at congressional hearings, and Fagundes, who is a policy associate at the American Sustainable Business Council, has shared the article with several congressional offices, aiming to elevate the article into policy discussions.
"These findings are important because they show the data behind what was already known by Mr. Tillman and the other farmers of color in Oklahoma and across the country," says Fagundes. "The USDA has named red cedar as one of the top conservation issues for farmers in the region. To address this issue equitably, the USDA needs to address its history of discrimination."