Achievements
AU Model UN Now Ranked #2 in North America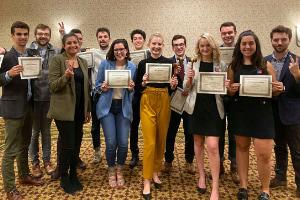 American University's Model UN team is now ranked second in North America and is the top program on the East Coast, according to Best Delegate's fall 2019 North American College Model UN rankings.
In their most recent ranking, Best Delegate reports that "American University has risen to become the top Model UN program not just in Washington, DC, but on the entire East Coast after placing in the top two of this fall's ranking—this is their highest rank ever."
For the past five or six years, AU's Model UN team has rapidly moved up in the rankings, and over the last three years alone, the team has risen from 75th to second, illustrating the success, commitment, and passion of its membership.
Model UN at American University
A branch of the American University International Relations Society, the Model UN team is made up of 40 delegates of varying backgrounds and experience levels and brings together students from schools across campus.
Delegates hone their debate, public speaking, writing, critical thinking, and problem-solving skills through practices and competitions and use what they learn in the classroom on the Model UN circuit.
Simon Lux (SIS/BA '22), an assistant head delegate, joined the team as a freshman without prior Model UN experience. With interests in foreign policy and international diplomacy, Lux found a sense of community on the team and has developed skills that will benefit him far beyond his time at AU.
"I have finetuned my public speaking and leadership skills, developed my SIS specializations in environmental sustainability and Sub-Saharan Africa, and gained countless other real-world skills that I know I can apply to my career in the future," says Lux.
Lux credits the team's recent success to the strong work ethic and drive of its membership, and he is excited to work toward ranking first in North America in the upcoming season.
Pushing for First
The team's head delegate, Callie Vitro (CAS/SPA BA '21), also attributes the team's success over the past few years to the passion and dedication of its leadership and members. Vitro hopes that the team's ranking will attract new talent to the organization and build momentum to reach the top spot in the coming seasons.
"It's been really exciting for me to know that all of the hard work from everyone on the team has culminated in this amazing award," says Vitro. "It also gives us some more drive to see how much farther the team can go."
Representing AU at Home and Abroad
AU Model UN kicked off the spring season last weekend, competing at the McGill Model United Nations Assembly (McMUN) in Montreal. The team has a full travel schedule this spring, including conferences in Chicago, Boston, Philadelphia, New York, and here in Washington, DC.
SIS professor Andrew Spath, the team's faculty advisor, is proud of the students who commit so much of their time and energy to competing at the highest level both individually and as a team: "I'm really struck by the fact that these are students who could be doing very different things with their weekends, but decide to go out, represent the university, and represent it well, doing the kinds of things AU wants to be known for: teamwork, negotiation, international diplomacy, and critical analysis of contemporary issues."