International
AU YouthMappers Change Their World by Mapping It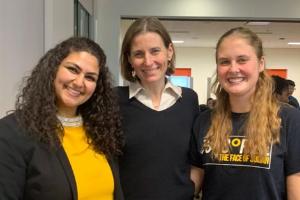 From internships to volunteering abroad, SIS students find various ways to answer President Dwight D. Eisenhower's call to "wage peace." And thanks to the new YouthMappers chapter at AU, students can support international development projects—including disaster relief, emergency preparedness, migration crises, and food security—from their own couches.
We spoke with AU YouthMappers founder and president Lidia Awad (SIS/MS '20) and vice president Sidney Larsen (SIS/MA '20) to learn more about mapping, the YouthMappers chapter at AU, and how students can get involved.
The Power of Mapping
Started in 2015 by the USAID GeoCenter and three founding universities, the YouthMappers network uses a web-based, open mapping platform to create digital maps. With this GIS software, students identify buildings, roads, waterways, and land uses in unmapped areas to create digital maps for humanitarian efforts and development projects.
According to Awad, the digital maps created by students are not entirely error-free but are helpful tools for those providing humanitarian assistance or working on development projects on the ground.
"The importance of this is not necessarily learning how to map and use GIS, but more the product of your work and helping with humanitarian issues through the creation of these maps," says Awad. "You can map anything, like water pumps in a rural community, refugee camps, or food security."
YouthMappers at AU
One of 207 campus chapters across 48 countries, YouthMappers at AU was started by Awad after she began volunteering with the organization last year. According to YouthMappers at AU's website, the chapter "empower[s] young professionals to define and change their world by mapping it."
The chapter held its first "Map-a-Thon" in November, an event that features a speaker who uses GIS professionally, followed by a group mapping activity. Dr. Kiersten Johnson, a senior researcher at the USAID Bureau for Resilience and Food Security and the USDA Foreign Agriculture Service, spoke with the students at November's Map-a-Thon before they started their mapping project on food security in the Philippines.
According to Awad and Larsen, no prior experience in GIS or mapping is necessary to participate in YouthMappers. Once students log enough changes in any given task, they can advance to intermediate or advanced mapping projects.
What's Next?
Awad and Larsen are looking forward to growing the chapter and hosting more Map-a-Thons and meetings to work on mapping projects on campus, but for now, students can learn how to start mapping online.
Larsen created a page on YouthMappers at AU's website that walks users step-by-step through the mapping technology that is used online. There is also a task manager that updates the mapping projects currently available for students to work on at anytime, anywhere.
"If you're watching TV and you wanted to contribute to humanitarian aid in the world, you could just sit there and be mapping at the same time," says Larsen. "Mapping provides a great opportunity to have your hand in international development without having to travel somewhere."