International
How Will the IMF Help the World Recover from COVID-19?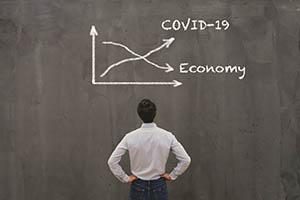 In times of global economic crisis, the International Monetary Fund's (IMF) role in stabilizing the international monetary system and addressing financial sector issues that bear on overall global stability becomes critical. In the case of COVID-19—with its unique dual impacts on global public health and the global economy—the role of the IMF is perhaps more vital than ever in its history.
In the midst of the IMF spring meetings, we got a few minutes to speak with SIS professor Tamar Gutner, who recently concluded a Council on Foreign Relations fellowship with the Independent Evaluation Office (IEO) of the IMF. She talked us through how the IMF is responding to the seismic impacts of COVID-19 on the financial sector and economies worldwide.
Q: The head of the IMF, Kristalina Georgieva, recently said that the coronavirus pandemic has created the worst global economic crisis since the Great Depression. What is the typical role of a global financial institution like the IMF in economic crises?
The IMF is the "go to" international financial institution for many countries in times of economic and financial crisis, and it is again today. Countries are turning to the Fund for emergency financing and for advice on how to stabilize their economies and address the many macroeconomic implications of the crisis. It is also an important source of economic forecasting and research.
Q: How is this economic crisis, which is caused by and coupled with a global public health crisis, different from previous crises from a global economic governance viewpoint?
This crisis is a joint one—a health crisis and an economic crisis—and now there are some concerns that it could also impact the financial system. The last major crisis, the 2008 global financial crisis, had multiple causes, with its roots in the US housing market. It highlighted risks that banks—among others—were taking and weak regulatory oversight.
Today's economic crisis stems from the fact that people are practicing social distancing and staying at home to "flatten the curve." This slows the spread of the virus and save lives, which results in a dramatic economic slowdown and an increase in unemployment that has put the global economy into recession. One important difference is that the IMF is now predicting the current crisis will cause a deeper recession than the one that followed the global financial crisis in 2008.
It is also a global crisis, and developing countries are facing the pandemic itself, capital outflows, and weak health infrastructures. Many of these countries were also hit hard during the global financial crisis in 2008, and today many experts are concerned about possibly even more dramatic health, governance, economic, and social implications of this crisis.
Q: More than 90 countries have requested assistance from the IMF so far. What is the IMF doing to respond to requests from these countries for assistance?
The Fund seems to be moving pretty quickly to act, which is challenging given that now 100 of its 189 members are seeking help—which is also very dramatic. It has disbursed the first round of grants to 25 of its poorest members to cover their debt service payments for the next six months, a move supported by other major donors as well. It has also backed efforts for debt relief measures by international creditors. The Fund has doubled its emergency loans and grants capacity to $100 billion, and it's looking at other ways to help its member states. A number of its member states have asked it to create additional reserve assets—the Special Drawing Right—to provide billions more for low-income member states, a step that was taken during the last global financial crisis. At the moment, this move is not supported by the Trump administration. The big question is whether the Fund's $1 trillion lending capacity will be enough or whether it will need more resources from its member states.
Q: How closely will the IMF work with global health organizations like the World Health Organization (WHO) in this crisis? How much will economic governance overlap with public health guidance?
The IMF managing director, Kristalina Georgieva, regularly stresses the importance of global cooperation in responding to this crisis, and she is a fan of the IMF collaborating with other international organizations. She and WHO director-general Tedros Adhanom Ghebreyesus recently held a joint press conference highlighting the importance of working together, but we don't yet know what this collaboration will look like and how meaningful it will be.
There is a lot of variation in terms of how well international organizations collaborate with each other, what they actually mean by collaboration, and how substantive that collaboration is. There can be variation in the answers, even between two organizations. The IMF, in recent years, has been grappling with how to address a set of issues that were not a part of its traditional work—issues such as gender and climate change. Now it will also be grappling with the connections between its traditional work and health issues. More collaboration will, no doubt, be part of its strategy for doing so.