International
How Have Brazil and Bolsonaro Responded to the Coronavirus?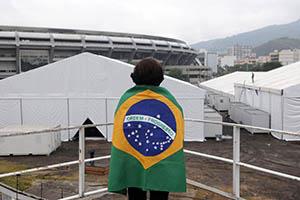 One of the most striking aspects of the coronavirus pandemic has been that while the virus knows no national boundaries, responses to the same threat have varied greatly from government to government. Few global leaders have responded in as controversial a manner as Brazilian president Jair Bolsonaro. We spent some time with SIS professor Agustina Giraudy so she could explain how Bolsonaro's words and actions have been interpreted within Brazil and what the rest of the Brazilian government is doing to combat the pandemic.
Q. Briefly, what has been the Brazilian response to the coronavirus?
As of this writing, President Jair Bolsonaro has been downplaying the gravity of coronavirus and not enforcing any national-level social distancing or lockdown measures. Along with others, Bolsonaro claims that social distancing measures would be more detrimental to Brazilians' welfare than the virus itself. Moreover, Bolsonaro has launched a $1 million advertising campaign against social distancing—encouraging people to go to church and businesses to stay open.
Yet, the Brazilian opposition in Congress has voted for a generous social package, especially for informal workers, for over 30 million people. Some of the measures that support the informal sector include a cash transfer of $115 per month for low-income households. The government also provided a $7.5 billion credit to small and medium-sized companies to avoid massive layoffs in the next two months.
Q. How much of that response has been led by President Jair Bolsonaro?
In the absence of a coherent and reasonable national policy from the president, the Congress, governors, social movements, and the national public health system, known as Sistema Único de Saúde (SUS), have played a vital role to combat the pandemic.
Q. What seems to be the reaction of Brazilians to their president's words and actions during this time?
The absence of a social distancing response to the pandemic by the national government generated a backlash by most state governors and the residents of these states. Most states, including the most populous and harder-hit states—São Paulo and Rio de Janeiro—implemented social isolation measures, cancelled school, and called on a number of businesses to shut down. In addition, Rio de Janeiro gangs enforced mandatory lockdowns in favelas. However, uncoordinated subnational efforts at social distancing cannot be as effective as a clear national directive.
Q. How does Bolsonaro's response compare to that of US President Donald Trump, in terms of both his rhetoric and his actual policy response?
Bolsonaro's rhetoric resembles Trump's initial stance of downplaying the danger of COVID-19. Yet, unlike Trump, Bolsonaro has not issued any measures advocating for social distancing. Bolsonaro has been much more irresponsible than Trump.
Q. What are the checks built into the Brazilian system of government to allow public health officials and career government workers to respond in a way that follows the science and recommendations of outside groups like the World Health Organization?
The SUS has quietly been fighting to distribute tests and to help the World Health Organization develop a treatment. Yet, Brazil's health minister has been recently fired due to his opposition to the lack of social distancing measures.
The federal government freed budget constraints to increase health spending to improve the capacity of the health system. Increases in the National Health Fund have been mostly transferred to states and municipalities, as healthcare provision is decentralized in Brazil.