Achievements
SIS PhD Dissertation Defenses Go Virtual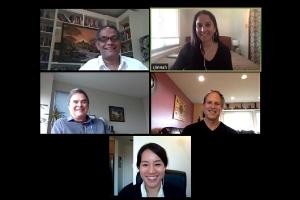 An SIS PhD student often spends years working on their dissertation—a research project that advances knowledge in the field of international relations and is the final step in a doctoral program. After completing coursework and selecting, designing, and conducting their research, the student's hard work culminates in the last stage of the process, the dissertation defense.
In a dissertation defense, PhD candidates present their research to a committee of experts in their chosen field of study as well as the broader SIS community. Then, they must answer questions about their research and prove that their work warrants obtaining a PhD in international relations.
But what happens when the last step of the PhD program, one that traditionally takes place in person, must take place remotely? In the midst of the coronavirus pandemic, two SIS PhD students, Julia Fischer-Mackey and Goueun Lee, have successfully defended their dissertations virtually.
Hearing the News
Fischer-Mackey's dissertation explored the role of social science research in the international development sector. Her defense had been scheduled to take place in mid-March, and because CDC recommendations at the time allowed people to gather in small groups, it was planned to be in-person but closed to the public. Less than a week before the big day, she learned that it would need to take place remotely.
"I felt a little bit sad that my friends weren't able to see me—in a way, it's a ceremonial event. But at the same time, it just seemed like a small problem compared to everything else that was happening in the world," says Fischer-Mackey. "In my job at the Accountability Research Center at SIS and through my research, I work with activists in countries where the situation is much more dire—people going hungry or starving because of a lockdown. For me, it was a small inconvenience not to have an open, in-person defense."
Lee, whose dissertation examined how South Korea has adapted global environmental norms, was mentally prepared to present remotely by the time March rolled around. Her parents live in South Korea, and that country's response to the coronavirus had already taken place before stay-at-home orders took effect in the US: "I had an idea that restrictions would be placed. I was already speaking with my husband about the fact that I might need to do this remotely, so it wasn't a huge surprise when I learned it would happen over Zoom."
Defending Remotely
Thanks to clear communication and reassuring words from their committee members, peers, and SIS PhD program director Boaz Atzili, Lee and Fischer-Mackey defended their dissertations virtually without a hitch. The process was fairly similar to what a defense would be like in person. After presenting their dissertations, they answered questions about their research. Lee and Fischer-Mackey then "stepped out" of the video call so that the committees could deliberate whether or not they passed their defenses.
Lee was able to have an open defense, which her husband, friends, and fellow PhD students from other schools could virtually attend: "Defending remotely, from the comfort of my home, I was maybe even less nervous than I would have been presenting in-person, right in front of an audience," says Lee.
"There were several people who joined us from different parts of the US and beyond," says Atzili. "That probably wouldn't have been possible for an in-person version of a defense. In some ways, it made it easier for people to join."
It's unclear for how long dissertation defenses will need to be conducted remotely, but the PhD program, like the rest of the SIS community, is made up of students who are resilient in the face of uncertainty.
"This is a very big deal for the students," says Atzili. "It's the conclusion of many years of working on a dissertation, so I'm very proud of the students who were able to transition from an expected, in-person defense to a remote one."