Internships
Summer Plans 2020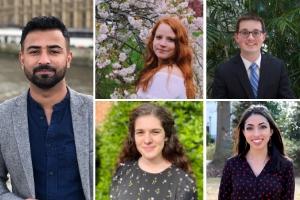 Every summer, many SIS students use the time off from school to seek new experiences in their chosen fields. While the novel coronavirus pandemic has put many summer plans on hold, our SIS students still are using the break to further their careers remotely. We caught up with a few of our students to learn more about their summer plans.
Sheraz Aziz, SIS/MA '22
Growing up in Pakistan, Sheraz Aziz saw, first-hand, the development work being done in the country by international financial institutions (IFIs) like the Asian Development Bank (ADB). This summer, Sheraz will learn about the inner workings of ADB through his internship at the organization's DC office.
"I wanted to gain a better understanding of IFIs—to learn how ADB aligns their mission with sustainable development and how they are aligned with the developing member countries," says Sheraz.
The SIS graduate student, currently studying international economics, comes from an engineering background and previously has worked in the private sector in both DC and China. One of Sheraz's main goals is to transition to a development-focused career, and this internship serves as a stepping stone toward that goal.
As an ADB summer associate, he will help the DC office with doing research on new information in international development, organize and attend virtual international development events, and assist with media outreach. Sheraz will also help the DC office plan and implement special projects and programs.
"They're giving me the opportunity to figure out what kinds of projects I'm interested in, and they will help connect me with other offices, get involved in those projects, and see what I can contribute to," explains Sheraz. "They're very open to helping me gain as much as I can from the internship."
Along with securing the internship, Sheraz was selected as a winner of the SIS Mehdi Heravi Internship Fund, through which he received $2,000 to help support this summer plan.
Nancy Haugh, SIS/MA '21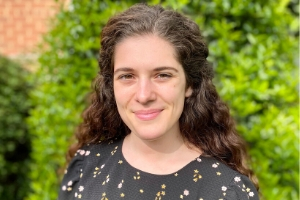 Nancy Haugh, who also won the Mehdi Heravi Internship Fund, is interning this summer at the Center for Democracy in the Americas (CDA). Haugh, a graduate student in the International Peace and Conflict Resolution program, has focused specifically on the role of dialogue in promoting human rights in the Western Hemisphere during her time at SIS. The CDA research internship gives her the opportunity to better understand how dialogue is used to engage US and Cuban policy makers on issues where they may be at odds.
"This is my first position in my field, so I am very excited for the experience," says Haugh.
She applied for the position in mid-March, when many organizations across the US switched to remote operations, and it wasn't clear if the position would be virtual or even still exist in a few weeks: "When CDA let me know that they were still taking on interns, I felt much better knowing that they could adapt the position to the changing context."
Alongside her research duties, Haugh will support CDA's donation tracking efforts and the production of a weekly news brief on Cuba that includes articles, news, and virtual events related to the country. These types of practical skills are exactly what Haugh is aiming to develop through this internship.
"This position will help me develop a lot of foundational nonprofit management skills that I don't yet have, including fundraising and grant proposal editing," says Haugh. "What I love about SIS and my undergraduate experience is that they have given me a very strong foundation in research skills, so now I can focus on building more specialized skills.
Jacqueline Kessler, SIS/MA '21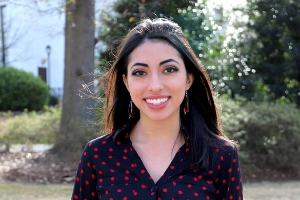 When Global Environmental Policy graduate student Jacqueline Kessler learned in March that her summer practicum in Costa Rica would be cancelled because of the coronavirus pandemic, she started looking for other professional development opportunities for the summer.
She quickly landed a summer internship with the Zero Carbon Buildings Research team at the World Resources Institute (WRI), where she will conduct policy analysis to evaluate zero carbon buildings in Turkey and Colombia.
Kessler first visited WRI during the fall semester on Site Visit Day for graduate students, which was organized by the SIS Office of Career Development. After meeting with the team and learning more about WRI, Kessler became interested in working with the organization in the future.
Kessler is excited to intern at WRI this summer and explore a potential career in environmental policy research: "I'm still in the process of figuring out what exactly I want to do in my career. Being a research policy intern will give me a chance to decide whether that's something that I want to pursue in terms of a full-time career."
She applied for her internship position online and then took part in an interview and writing exercise. The next week, WRI contacted Kessler's references and offered her the position.
"This is one of the internship positions that is specifically open to American University students," explains Kessler. "I'm really grateful that AU has these internships for their students because I know it can be really challenging and competitive to find these opportunities."
Nicholas O'Connor, SIS/BA '22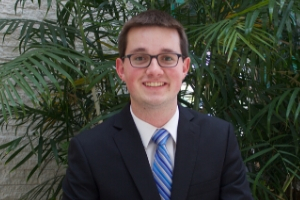 Undergraduate student Nicholas O'Connor will join the team at the Korey Wise Innocence Project (KWIP) this summer, an organization housed at the University of Colorado Law School that provides legal help to people in the criminal justice system who believe they have been wrongfully convicted.
O'Connor secured his internship this summer by cold emailing his résumé and cover letter to the organization in January. After a phone interview, he was offered one of the two spots available for undergraduate interns at KWIP.
At KWIP, O'Connor will work alongside the other undergraduate intern, law students, and staff lawyers to manage the organization's database of applicants and help bring selected cases through to investigations or back to the courts.
"When we're seeing a lot of the issues with the criminal justice system today—especially wrongful convictions—it's really important to have organizations like the Innocence Project," says O'Connor.
O'Connor, who is interested in attending law school after completing his undergraduate degree at SIS, looks forward to gaining experience in the legal field and providing an important resource to people who may have been wrongfully convicted.
"At American and in SIS, you're taking on these big questions and case studies that have a lot of gray areas—a lot of difficult, conflicting interests," explains O'Connor. "Undertaking that kind of analysis and learning to work with a group of people [at the Innocence Project] with different strengths and who have much more experience than I do will help me far beyond SIS."
Samantha Smith, SIS/BA '21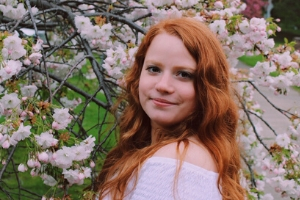 This summer, undergraduate student Samantha Smith will be interning at USAID's Bureau for Legislative and Public Affairs, where she will support the international development agency's communications strategy and policies.
Though Smith wasn't initially interested in a career in international development, she took a thematic area gateway course in global inequality and development last semester and wanted to gain more knowledge and experience in the government sector before graduating next year.
David Fletcher, a senior career advisor at SIS, encouraged Smith to apply for the internship at USAID and helped her tailor her résumé, cover letter, and writing samples to meet government standards. Smith applied for the internship in December and was offered the position in February after a short interview.
Smith is interested in eventually working at USAID or the State Department full-time after graduation. As the only intern on the Bureau for Legislative and Public Affairs team at USAID, she looks forward to strengthening her communications skills and gaining hands-on experience: "Interning at USAID will give me a glimpse into the work that this government organization does and gain a deeper understanding of international development."