Research
SIS Students Conduct Research for the State Department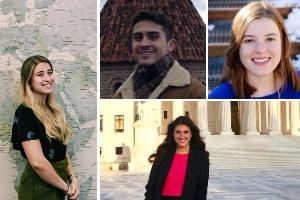 In 2019, SIS began partnering with the US Department of State on its Diplomacy Lab initiative, which allows students—under the guidance of faculty—at participating universities to conduct research on foreign policy challenges for the Department.
In spring 2020, Distinguished Diplomat in Residence Ambassador Earl Anthony Wayne oversaw two Diplomacy Labs: one investigating anti-gang initiatives in the US for the Bureau of International Narcotics and Law Enforcement Affairs (INL) and another focused on supporting reconciliation in post-conflict Afghanistan for clients at the US Embassy in Kabul.
Honing Persuasive and Interpersonal Skills
Undergraduate SIS seniors applied to participate in the labs, which served as their senior capstone course. After spending a few months conducting research and drafting reports on their respective topics in teams, the students virtually presented their findings to the INL and the US Embassy in Kabul at the beginning of May.
Alongside reading academic articles, the teams interviewed a variety of experts for their research, including law enforcement officials, NGO leaders, community members, scholars, State Department officials, and politicians. For the reconciliation-focused lab, team members spoke with experts from and studied cases covering more than 30 different countries.
"We were looking for best practices from around the world—examples of successful reconciliation that we could compile into the report for people at the US Embassy in Kabul to look at," says team member Alan de Beaufort. "These were really busy people—civic leaders and politicians—but they were willing to take the time to speak with us."
Through this process, students learned how to be persistent and persuasive and developed interpersonal skills that they can use in their professional careers. Ambassador Wayne supported the students with some of their interviews by connecting them with experts.
"Ambassador Wayne gave us great connections," says Maria Humayun, who served as the project manager of the reconciliation-focused lab. "We wouldn't have been able to get in contact with some of the experts outside of the country and within certain organizations if it wasn't for him."
Lessons in Teamwork and Leadership
Through Diplomacy Lab, students also learned a great deal about working in teams. The students were given the flexibility to decide how their groups would divvy up and conduct research and what they would include in their final reports. It was a process that required them to work past their differences and figure out how each team member's strengths could contribute to a solid final project, which included a written report and an oral presentation.
"Giving a good oral presentation as a group—that's not an easy thing to do, even for public servants. I've seen a number of people with 15 to 20 years of experience struggling to do this," says Ambassador Wayne. "I think it's a tremendously valuable experience for students to get together and work through big differences in opinion to produce a fine product. That's what you'll need to do in many businesses and government departments."
Humayun, Alexia Gardner, and Sophie Goguichvili took on leadership positions within their teams, through which they managed and facilitated collaboration among members.
"I never thought of myself as a leader before, and with this experience, I'll be able to show that I was responsible for managing a nine-member team," says Goguichvili, who was the project manager of the team focused on anti-gang initiatives in the US. "They're not even my colleagues anymore, they're my friends."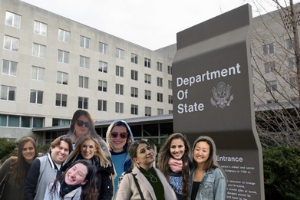 Projects That Impact Foreign Policy
The labs helped SIS students expand their knowledge and interests in different aspects of international affairs and also gave them a first-hand look into the inner workings of the Department.
"I hadn't interned at the State Department previously, so I didn't have a lot of familiarity with the organizational structure of it," says Gardner. "It was really interesting to see how the Department runs and how passionate they are about the work they do."
Both teams' reports received high ratings from their clients, who plan to share the findings with other parts of the State Department and other relevant public policy actors. The teams have also been asked to share their findings with DC think tanks and at least one development policy implementer, which work on global issues.
"The aim of these Diplomacy Labs was to teach the students skills needed to organize, draft and present successfully both in writing and orally," says Ambassador Wayne. "While gaining substantive knowledge on international affairs issues, the students produced reports that can be useful for actors in implementing public policy. It's a much different report than one would write for academia."
Diplomacy Lab serves as a transition between academic and professional work, allowing students interested in international affairs careers to develop their research and writing skills. The program will continue in semesters to come at SIS, with options for both graduate and undergraduate students.
"It's a great capstone project, because the ability to do research on a team is so important for developing work experience," says Gardner. "It's really satisfying to know that your work is going to have a practical impact and do something good for the world."