Achievements
SIS Students and Recent Grads Kickstart Their Careers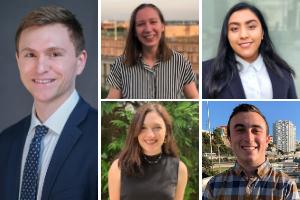 Recent SIS graduates and even current students have begun full-time, globally-focused jobs that span a range of sectors. We spoke with some of these alumni and students to learn more about their new positions, how they secured them, and their professional experiences so far.
Joseph Bodnar, SIS/MA '20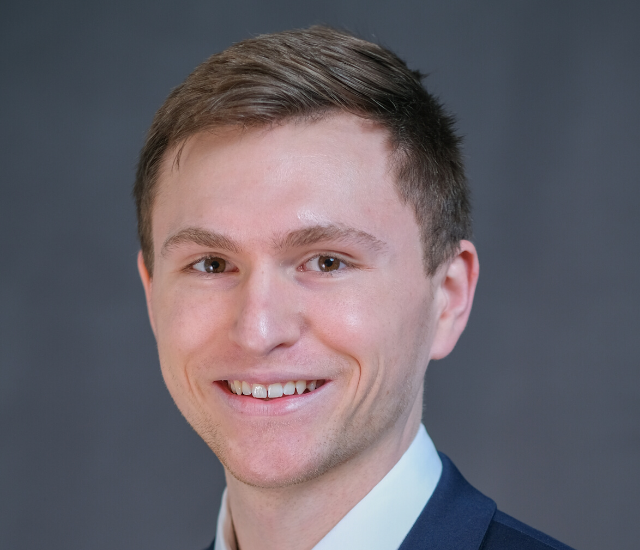 Joseph Bodnar, a graduate student in the Comparative and Regional Studies (CRS) program, recently landed a full-time position as a program assistant at the Atlantic Council, an international affairs think tank in Washington, DC. After completing two internships at other think tanks during his time at SIS, he started seriously looking for full-time positions last semester and was excited to apply for an open position at the Atlantic Council.
He submitted his application and was invited for an interview. Over the next few weeks, Bodnar had four different interviews for the position. A week after his last interview, he started his contract position as a project assistant. When that initial contract expired in May, the organization decided to keep him on staff full-time.
"I can't really imagine a better place to start my career," says Bodnar. "The connections you make at the Atlantic Council and the type of work I'm doing sets me up really nicely to do almost anything in this field."
Bodnar originally selected the CRS program at SIS because the coursework matched his thematic and regional interests—he has chosen to focus thematically on governance and democracy and regionally on Europe and Eurasia. His studies at SIS helped prepare him for his new position in which he supports the organization's research and activities.
"The substantive background and the rigor of the courses at SIS have been really important in preparing me for my position because you have to come in with a baseline knowledge of what is going on in the world," explains Bodnar. "Having the background knowledge of international affairs is really critical to my understanding of the purpose and potential of my work."
Robert McDonald, SIS/MA '20
Robert McDonald graduated from SIS in May and is currently a program analyst at Partner Forces LLC, a management consulting firm in Arlington, Virginia, specializing in homeland security. McDonald, a government contractor, conducts data analysis for the National Risk Management Center (NRMC), which identifies and analyzes risks to the US's critical infrastructure, including cyber and physical threats.
McDonald says that the variety of topics and breadth of coursework of SIS's Global Governance, Politics, and Security (GGPS) program helped narrow down his career interests: "I took a really interesting data analysis course with Professor [Austin] Hart and a course in strategy and emerging technology with Professor [Audrey] Kurth Cronin. Those classes really shaped what I want to do for a career."
In McDonald's current role, he uses data analysis and strategic thinking every day to research, identify, and predict threats to the US's critical infrastructure, and he still references the notes he took in Professor Hart's class on the job: "Every day, I'm using something I learned from the GGPS program."
While looking for a full-time position before graduation, McDonald says that he came across a listing for another job at Partner Forces on LinkedIn. McDonald reached out to a recent SIS alumnus from the USFP program who was working at the organization. He helped guide McDonald through the application process and put him in touch with his current manager, which helped him land this position.
"AU grads and the AU community have been really open to helping each other. If there's ever an opportunity, they're very willing to lend a helping hand," says McDonald. "I wound up in the position that I'm in just that way. I know a lot of people are willing to do the same—myself included."
Rabia Muhammad, SIS/BA '20, SIS/MA '21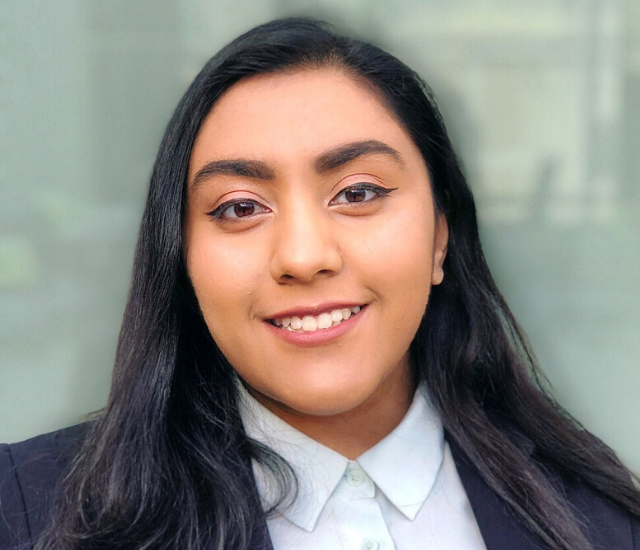 After working as a Pathways intern at the General Services Administration for the past year, United States Foreign Policy and National Security (USFP) student Rabia Muhammad will soon start a full-time position as a data scientist at Booz Allen Hamilton, a global consulting firm that serves clients in both the private and public sectors.
Muhammad sent in an application to Booz Allen and was contacted by an employee for a phone screening who spoke with her about her interests, professional goals, and which teams with open positions she might be best suited for within the organization. After interviewing with three different teams, she received an offer for a position to conduct data analysis on national security for a government agency client.
Muhammad's SIS undergraduate courses sparked her interest in US foreign policy and national security, and her internship experiences led her to developing a zeal for data science: "I was really interested in data itself—how data informs decision making—and in the stories data can tell."
She is looking forward to building her data analysis skills through this new position, where her day-to-day responsibilities will consist of reviewing large data sets and identifying the national security trends in which her team's client is interested.
Muhammad says that she was able to leverage her time at SIS to construct a strong application and confidently showcase her past experiences during the interview for her position.
"In my interview, I was able to talk about how the SIS 306 course guided students through this really interesting, year-long research project for the first time," says Muhammad. "In that class, I was able to learn how to use SPSS [Statistical Package for the Social Sciences] and get comfortable with large sets of data."
Julia Pataky, SIS/MA '20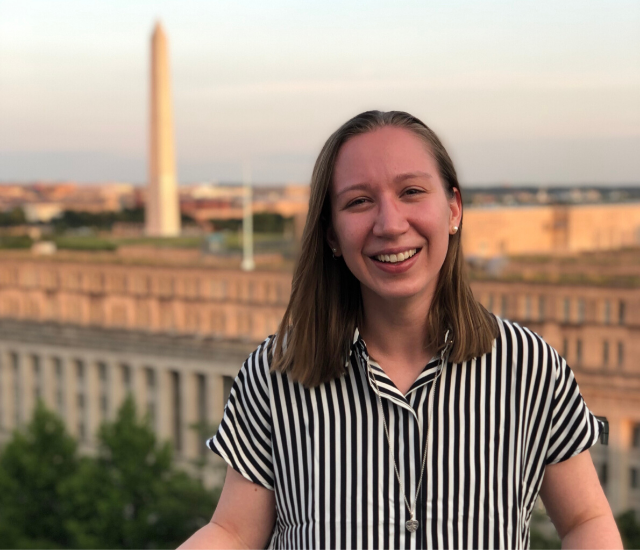 Julia Pataky recently started a full-time position as a program coordinator at the Goethe-Institut's pop up in Kansas City, Missouri, where she helps plan and implement projects, events, and exhibitions that promote the knowledge of the German language and culture. The Goethe-Institut is a cultural institute of the Federal Republic of Germany with locations across the globe.
Pataky, a Fulbright Scholar from Austria, came to the Intercultural and International Communication (IC) program at SIS with an interest in cultural diplomacy and advocacy and was excited to dive into different academic areas and professional opportunities available to her.
"The SIS IC program is really unique," says Pataky. "The flexibility of the program, the readiness of the professors to help shape your understanding and interests, and the community that makes up the IC program—those three things together are a really great combination for people who are interested in pursuing careers in this field."
As the end of the spring semester approached, Pataky needed to secure a job six weeks before graduation to meet her visa requirements. She narrowed her search down to shorter-term contracts and came across the open program coordinator position at the Goethe-Institut, an organization that had been on her radar for a potential job after graduation. After applying and a few rounds of interviews, Pataky was offered the role and started in May.
Right now, most of Pataky's work is happening digitally. Her initial contract with the Goethe-Institut expires in December, but she looks forward to pursuing her other professional interests in her next role: "If there is one thing I took away from SIS, it's having confidence in myself. There are so many amazing people in the SIS community, I feel like being around them and getting encouragement from everybody gives you the right mindset to pursue these opportunities."
Andrew Polinski, SIS/BA '20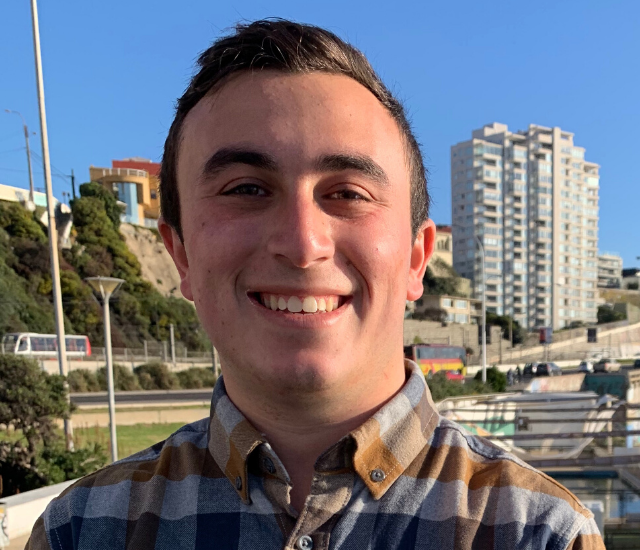 Andrew Polinski was studying abroad in Chile last fall when he came across an open internship position at TradeMoves LLC, an organization that offers advisory services on international trade policies and regulations to clients, helping them minimize barriers to trade.
In Chile, Polinski completed a phone screening for the internship, and when he returned home, he had a second-round interview with the TradeMoves team and took a trade knowledge assessment. He started as an intern in January and has since been promoted, now serving full-time as an international trade analyst.
Polinski, an undergraduate student at SIS majoring in international studies and minoring in economics, has been able to explore his various academic interests at SIS: "The interdisciplinary nature of SIS gave me a lot of opportunities to dabble in international trade and international development, which led me to where I am right now."
Even though Polinski still must complete two classes in the fall before graduating, he feels confident about balancing a full-time job with his studies. He enjoys working at TradeMoves, where he assists clients in navigating international trade policy and regulation—including tariff intelligence, import and export requirements, and customs issues—and is able to see how his work directly impacts his clients in a positive way.
"I've learned at SIS that there are so many ways to go in your career and in international affairs," explains Polinski. "This position really complements some of the coursework I've undertaken at SIS because I've been able to apply the things I've learned and use it in a real-world application."
Ansley Vickers, SIS/MA '20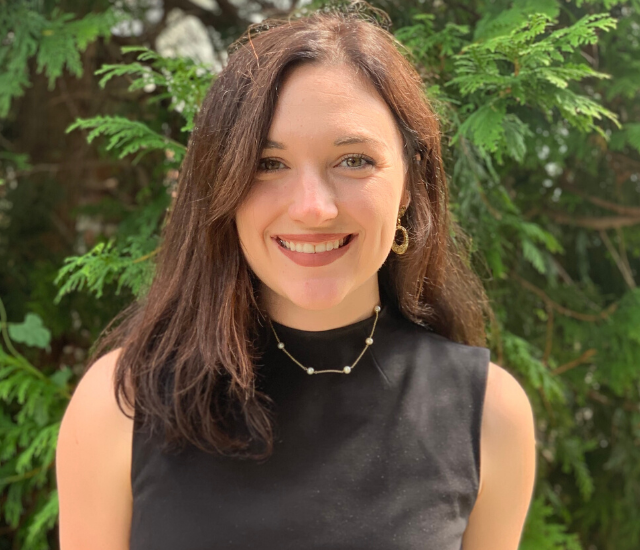 Ansley Vickers, an alumna of the GGPS program, is currently working at Macfadden/PAE as a US policy coordinator for USAID's Office of Food for Peace. As a federal contractor, she is embedded in the team at USAID and collaborates with other contractors and direct hires to support the Food for Peace program.
After finishing her undergraduate degree, Vickers realized she wouldn't be a strong applicant for the international affairs jobs she was interested in without a master's degree. She decided Washington, DC, would be the best place to gain experience in international affairs and that the GGPS program was a good fit because she could explore the program's breadth of courses and subjects.
During her final year at SIS, Vickers interned with the US policy team at CARE, a global humanitarian organization, with a focus on their food security portfolio. She decided to pursue a full-time job in international food aid policy after graduating, and after submitting her application, being interviewed, and completing a writing assessment, she started her job at USAID's Office of Food for Peace in May.
"What I did outside of the classroom informed what I did at AU. Through my internship, I became more interested in the policy issues, so I shaped my coursework to reflect that interest," says Vickers. "Syncing my coursework with the internship experience so the two can inform each other has been very helpful."
Vickers explains that her time in the GGPS program also helped prepare her for her current role, where she covers congressional testimonies and hearings, contributes to policy briefings for senior leadership, and tracks meetings with congressional staffers whose members are engaged in food security issues internationally.
"In many ways, many different aspects of my time at AU have contributed to being able to complete my work successfully," explains Vickers. "My experience in the program was helpful because our assignments were directly applicable to working in the international affairs field."