Achievements
SIS Professor Amitav Acharya Wins AU's Scholar/Teacher of the Year Award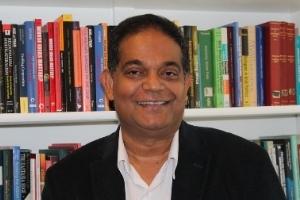 The Scholar/Teacher of the Year Award is American University's highest honor, awarded annually to a faculty member who demonstrates outstanding and significant scholarly contributions, exceptional teaching, a commitment to high standards within their professional life, a concern for their students and colleagues, and sensitivity to AU's mission. This year's recipient is Amitav Acharya, the first SIS professor to have won the award.
"I'm really proud of Amitav—both his scholarly accomplishments and that he is this year's AU Scholar/Teacher of the year," says SIS dean Christine BN Chin. "The fact that he's won this award speaks volumes about his philosophy as a researcher, educator, and scholar—and how he works with the younger generation to co-create knowledge."
Alongside contributing to the academic areas of Southeast Asia, multilateralism and global governance, and human security, Acharya has worked to broaden international relations (IR)—a subset of international affairs—to include non-Western perspectives. We spoke with him to learn more about how he developed his academic interests, his scholarly contributions, and his philosophy on teaching.
Inspired by His Global Experiences
Acharya grew up in a village near Jagatsinghpur, located in the Indian state formerly known as Orissa (now Odisha). After completing both his BA and MA in India and his PhD in Australia, he spent time conducting research and teaching in Singapore, where he developed a deep interest in the region of Southeast Asia. Later, he taught in Canada, which sparked his focus on multilateralism, global governance, and human security.
"When I was in Canada, I realized the country is a very important actor in global governance, international cooperation, and human security. Canada was one of the inventors of human security and a leader of multilateralism," says Acharya.
While Acharya was teaching in Canada, he also became interested in exploring international relations theory, specifically from a non-Western perspective: "I realized that international relations is a very narrow, very Western-dominated field. It doesn't really give voices to non-Western ideas, actors, or issues. I decided that this was something I really wanted to challenge."
Contributions to Changing IR
Acharya's list of accomplishments is as long as it is exceptional. His research has been published in leading international affairs journals; he has held visiting professorships at universities across the globe, including in South Africa, Japan, China, the US, the UK, and Hungary; and he currently serves as the UNESCO Chair in Transnational Challenges and Governance. But what Acharya is most proud of is his tenure as the International Studies Association (ISA) president from 2014 to 2015.
ISA is the largest professional association for IR scholars worldwide, and Acharya was the first non-Western president the organization had ever elected: "For the first time, somebody from outside of the West was president….I wanted to create a new trend, a new direction so to speak, to change IR so that it would be more open, more attuned to those who have been excluded from the field—the Global South and also groups that are marginalized in Western countries. Their history is not taught in traditional IR courses, and that may be changing now."
Through his platform at ISA, Acharya advocated for broadening the field by creating a flexible and inclusive agenda to bring the world's IR intellectual community together. He has named this inclusive form of IR theory Global International Relations, and he has written several books on the subject, including, most recently, The Making of Global International Relations.
"I admire Amitav's contributions to knowledge, especially his work on Global IR," says Dean Chin. "He is committed to including the work and contributions of the histories, voices, and perspectives of scholars from the Global South and those from marginalized communities in the North."
Teaching at SIS
Acharya joined the faculty at SIS in 2009: "I realized what a fantastic place it was. The school has a culture of openness and friendliness with people on different sides of the political spectrum. It was very important to me to have that breadth of perspectives and interests—the large faculty at SIS have a wide span of intellectual pursuits."
Having taught both undergraduate and graduate students at SIS, Acharya has developed a teaching philosophy that strikes a balance between catering to the interests of his students and challenging their views: "I pay attention to the interests and identities of individual students….I also want students to understand the historical context of what they're learning—the multicultural, global narrative. I aim to make the learning process more inclusive, global, and something that challenges the long-established views of our students."
Acharya's curricula include ideas, societies, and civilizations that have not, historically, received enough attention. He emphasizes how, for example, the foundation of US foreign and domestic policy was forged from the interaction between the European settlers and the Native Americans. Another aspect of his teaching is that he encourages his students to push back on his views.
"I tell my students on day one to think of me as one of them. I have my own views just as they have their own, and I encourage them to challenge my views. I also learn from this interaction—I believe that professors who don't learn from their students are not doing their job justice," says Acharya.
Impact on SIS
Acharya has made an impact at SIS through his roles as a researcher, educator, and scholar. Throughout his career, he has taken the time to mentor junior faculty members and students, and he remains committed to making IR a truly global field.
"I'm so pleased that Amitav is a faculty member at our school," says Dean Chin. "As a member of the SIS community, he helps affirm that SIS is always at the cutting edge of pushing the field forward. He's a major contributor to our ongoing effort."