Research
Shlonsky Award Recipient Researches COVID-19's Impact on DC's Latinx Community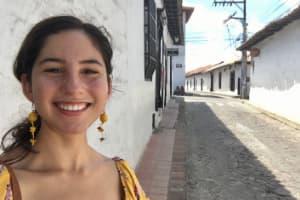 Since 2018, International Development (ID) student Natalia Cañas (SIS/MA '20) has worked with SIS professor Nina Yamanis on her ongoing research with La Clínica del Pueblo, a community health-care center that provides comprehensive care to the Latinx communities in DC and Maryland. Cañas and Yamanis have coauthored a journal article and collaborated on two practicum courses; they are currently working on a research project with other students to better understand the effects of the coronavirus pandemic on the local Latinx community.
Cañas also was the recipient of the 2019 Matthew C. Shlonsky Award, which supports SIS graduate and undergraduate students working with SIS faculty on collaborative research or community projects to address challenges facing Washington, DC. We caught up with Cañas and Yamanis to learn more about their research and the value of faculty-student collaboration.
Working with La Clínica
Cañas began working with Yamanis as a qualitative researcher in 2018 on a project funded by a Robert Wood Johnson Foundation grant. She conducted interviews with patients at La Clínica to better understand their health care access, the challenges they face, and the resilience they embody.
"When I began my degree, I had absolutely no idea that research would be such an important part of my graduate experience," says Cañas. "For me, having this experience with [Professor Yamanis] has been life-changing, because it has allowed me the privilege to speak with Latinx immigrants in DC and learn from their stories of hardship and resilience. Throughout the process, I became a qualitative researcher, which gave me the skills I needed and fueled my passion to ultimately win several awards at SIS and continue the work."
As a Latinx immigrant herself, Cañas explains that she became very passionate about the project. She assumed more responsibility and eventually became a coordinator and supervisor on the project.
Cañas also took part in a practicum course that Yamanis conducted using the data they collected from La Clínica: "I saw the project through from beginning to end. I started off collecting the data through interviews, and then I combed through it for analysis during the practicum."
After the practicum last summer, Yamanis asked Cañas to coauthor a now-published paper with her on the Latinx experience and resilience in accessing health care, which inspired Cañas to pursue her own research project on the topic.
Shlonsky Award
Cañas designed and conducted her research project on Venezuelan migrants in Colombia last summer. When she returned to SIS last fall, she decided to apply for the Shlonsky Award to further explore how Latinx immigrants' immigration status—whether they had Temporary Protected Status (TPS), were protected under Deferred Action for Childhood Arrivals (DACA), or were undocumented—affected their access to health care.
The Shlonsky Award was established by former SIS dean James Goldgeier in 2015 in honor of SIS alumnus Matthew Shlonsky (SIS/BA '14), who fell victim to gun violence in DC. The award encourages students to use their international affairs knowledge to develop research or projects that seek to improve the quality of life for those living in the nation's capital.
Cañas says that before coming to SIS, she knew she wanted to do work with migrant populations, but she hadn't yet honed her focus on the local Latinx community. As a student in the ID program, Cañas initially thought she would be interested in pursuing a more internationally-focused career, but she believes that the experience she's had working with Yamanis and La Clínica has expanded her interest in working with migrant communities domestically.
While Cañas worked on her Shlonsky project, the coronavirus pandemic changed the trajectory of her research. Because Latinx people have been disproportionally affected by COVID-19, Cañas and Yamanis decided to shift their research to investigate the effects of the coronavirus pandemic on La Clínica's patients and the Latinx community in Washington, DC.
Adapting to COVID-19
"We know that the community has been affected. Latinx and Black Americans have the highest rates of COVID-19 cases in Maryland and DC," explains Yamanis. "Given that this is a new and a crisis situation, La Clínica wanted to understand more about how the pandemic is affecting their clients from a social, economic, and health perspective."
Yamanis, Cañas, and SIS MA students in a summer practicum are currently interviewing 20 new participants by phone and Zoom to better understand the effects of the pandemic on La Clínica's clients and the local Latinx community. Cañas has seen several themes emerge across interviews so far: many patients have lost their jobs and many still hold low-paying and labor-intensive jobs that increase their risk of exposure to the virus; there is a lack of knowledge about what COVID-19 is, how it is transmitted, and what its effects are; and food insecurity and livelihood insecurity have increased, especially among undocumented participants.
After the project is finished, Cañas plans to create and distribute a brochure to clients at La Clínica on resources in the area available to them during the pandemic. She will also present her findings virtually to La Clínica's leadership team and the Shlonsky Award committee.
"Because we're diving into the depths of these people's experiences through a clinic that works directly with them—which has already created bonds and trust with them—we're able to understand their experiences more vividly and deeply," explains Cañas. "Through this research, we're able to dive into those depths in a particular way and bring to light the experiences of the Latinx community during this crisis."
Putting Research Skills into Practice
According to Yamanis, students enjoy participating in community-driven projects like her research with La Clínica, and they often bring new perspectives to such projects: "Students feel as though they get a lot of skills development in SIS, but doing research with a community partner who is going to use that research is an opportunity to practice those skills and put them in action. I think it's very motivating when your work is going to be used by an organization and by a community that is in need—it's not just a school exercise."
Students also gain more knowledge about the research process, learn how to connect with people, build rapport, ask questions, memorize and navigate an interview guide, and transcribe, code, and analyze qualitative data.
"It's not just like running a regression," says Yamanis. "It's actually talking to people, hearing their stories, and trying to make sense of multiple stories and then using those stories to make recommendations about what could help them."
Cañas, who has one more class to complete at SIS, says that she's very interested in pursuing a career in research after graduation and that her work with Yamanis and La Clínica has helped her grow both professionally and personally.
"The work that I've done with La Clínica del Pueblo has not only been a professional experience and one that has helped me expand my career interests, but it has led to personal growth as well," says Cañas. "When you speak with the Latinx immigrants who participated and later read and analyze their stories, it's incredibly moving, and it truly changes you as a person."