Alumni
SIS Alumnus and Author Promotes Clean Energy and "Climate Courage"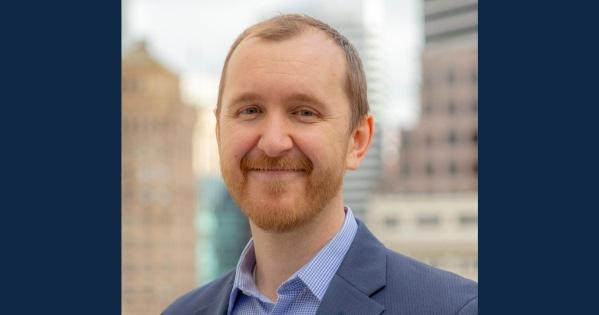 SIS alumnus Andreas Karelas (SIS/MA '07) dedicates his career to combating climate change. He has worked at and learned from a number of environmental organizations and is now the executive director of RE-volv, a nonprofit he founded that helps other nonprofits go solar through community-based financing.
Karelas has written a recently released book that aims to empower people to make impactful, sustainable changes in their communities—Climate Courage: How Tackling Climate Change Can Build Community, Transform the Economy, and Bridge the Political Divide in America.
Inspired by His Professors, Experiences, and Classmates
While Karelas always had a love for nature, he grew more invested in combating climate change as an undergraduate economics major at American University, where he found that he wanted to approach economics through an environmental focus. During his junior year, while studying abroad in Athens, Greece, Karelas was inspired by the city's use of solar energy: "I noticed that in Athens, every apartment had solar hot water heaters on the roof, something I never saw in the states….So that got me started on a solar energy investigation—I got really excited about solar and wanted to learn more about it."
After graduating and then interning at the American Council on Renewable Energy (ACORE), Karelas pursued the dual master's degree program in National Resources and Sustainable Development (NRSD) at SIS. The program prompted him to take swift action to combat climate change: "Professor Paul Wapner changed my whole perspective on environmentalism….The conversations that came out of his course really gave me the sense that we are at an inflection point. We have to do something about climate change."
Through the NRSD program, Karelas spent two semesters studying at the United Nations-affiliated University for Peace in Costa Rica. He also had the opportunity to work at blueEnergy, a development organization in Nicaragua, where he built wind turbines and installed them, along with solar panels, in villages without electricity.
Alongside practical experience, Karelas' time at SIS was enriched by the connections he made with other students: "Some of my best friends are from that program…they continue to inspire me and support me, and I support them….The NRSD students had experiences that informed me in addition to the professors, so that was a huge benefit as well."
Empowering Communities through RE-volv
Karelas' first job after graduating with his dual-MA was with the Center for Resource Solutions, a nonprofit that advances sustainable energy through policy and market solutions. There, he learned more about the voluntary renewable energy market—a market in which companies or individuals spend extra money to buy renewable energy.
"I saw that you had a lot of people in companies paying money for renewable energy, and that money was going to renewable energy facilities that were already built," says Karelas. "So to me the opportunity was, 'Well, what if we used that money to build new projects that haven't yet been funded?'"
Karelas explored this idea further and found that small, community-based nonprofits like churches, community centers, and homeless shelters were left out of the solar finance space, as they didn't have access to traditional financing options. That's when he came up with the idea for RE-volv, an organization that would help such nonprofits go solar through a pay-it-forward model of financing.
He founded RE-volv in 2011, and since then, the organization has funded 35 nonprofit solar projects across the country through donations and investments that fuel a revolving fund and provide community members with opportunities to get involved.
"When we empower people in their community to come together to help a local nonprofit [go solar], you can see the result," says Karelas. "When the local homeless shelter is powered by solar, they're saving money, there are more beds available for the homeless…it becomes part of your community. You gain benefits and social interaction from working with other people on this project, and you get to see that this is part of your community's values."
Climate Courage
In the fight to combat climate change, Karelas believes that empowering people to make sustainable changes in their communities and highlighting the benefits of switching to clean energy are key. This was the impetus behind not only RE-volv but also Karelas' book, Climate Courage.
"Citizens need to be able to engage more [with the climate movement]. They need to be able to take action that feels like they're having an impact," says Karelas. "We need community success stories to uplift that say, 'This is what your community can look like. These are tangible things that you can do.'"
He spotlights a number of these success stories in the book, which he aimed to make approachable, optimistic, and hopeful—words that aren't often used when it comes to books on climate change. Most of the stories showcase the drive to work toward climate solutions even in the face of public opposition. Karelas calls this "climate courage."
In the book, Karelas also emphasizes the strategies that readers can use to reach others and hopefully convince them to take action. Instead of bombarding someone with the intimidating facts of climate change, he recommends approaching the subject in a way that resonates with their values and helps them understand that climate solutions are not inconvenient and can, instead, be pragmatic.
"A lot of people don't realize the benefits [of clean energy]. They don't realize how cost-effective it is, how many jobs it creates, the health benefits that are going to come about from shifting to clean energy, or that our economy is going to get a massive boost because of this," says Karelas. "That's what we need to be telling the American public day after day."
Karelas hopes that readers can come away from the book with their own climate courage, feeling inspired to take part in climate solutions.